If every great Broadway show and Monty Python's Holy Grail had a baby with The Princess Bride and the great Mel Brooks, said offspring would probably be something like Galavant. According to Michael Kosarin, musical director, "It's a medieval musical comedy, but with a modern sensibility." However, before you rent this for the kids, it's important to note this is a sort of adult pseudo-Disney/Dreamworks production. A meta-fairy tale that's aware of itself in a very amusing way, it's a bit naughty, very saucy and irresistibly witty. Anything that can rhyme coup d'etat with push-up bra is aces in my book! It had me roaring with laughter and I greatly enjoyed all the songs that thankfully do not stop the action, but rather move the story forward in some very clever ways.
This glorious show makes fun of all the classic fairy tale clichés (even using the phrase in the opening song), somewhat along the lines of the Shrek movies if they were made solely for grown-ups. I particularly enjoyed the, er, super romantic ballad "Maybe you're not the worst thing ever", although it's tough to pick a favorite out of the myriad of brilliant songs. Although I'm disappointed there were only 8 episodes to see, it delighted me to find this is not the mini-series I originally thought it was, but rather an ongoing TV show where all the fun can continue. This does lead to an inevitable cliffhanger instead of the usual Happily Ever After wrap-up, but Galavant is a refreshing bright spot in a sea of dramas and inane comedies. It sparkles with wit, ingenious music and lyrics, and thoroughly entertains. Encore! – BETHANY
Indulge in looking through the actors, trivia and all sorts of information at: the Internet Movie Database
Left to right:  Sid (Luke Youngblood), Queen Madalena (Mallory Jansen), Galavant (Joshua Sasse), King Richard (Timothy Omundson), Gareth (Vinnie Jones), and Princess Isabella Maria Lucia Elizabetta of Valencia (Karen David).
Actually, Galavant, thanks for coming to "rescue" me from marrying this pathetic worm of a man, but I think I quite fancy being Queen.
Say what?  Madalena, I thought we had True Love!
'Weird Al' Yankovic and The Monks.
Princess Isabella and Sid Golf Clap at a tournament.
Oh dear.  That must really hurt.
Sir Jean Hamm (John Stamos).
Center: Peter the Pillager (Hugh Bonneville)
                         Xanax the wizard (Ricky Gervais).  Why should you become his patron?  Because "Xanax makes everything better", of course!
Everybody dance!
Kingsley, Richard's older brother (Rutger Hauer)
Madalena tries to seduce Galavant (again).
                         Anthony Stewart Head as Galavant's singing and dancing father.
Gareth (Vinnie Jones), King Richard's right hand man, gets slightly petulant.
         Sir Galavant, hero of the people and general "fairy tale cliché".
Madalena sings to herself (and gets her groove back) in "No One But You".
Watch Madalena's performance for yourself: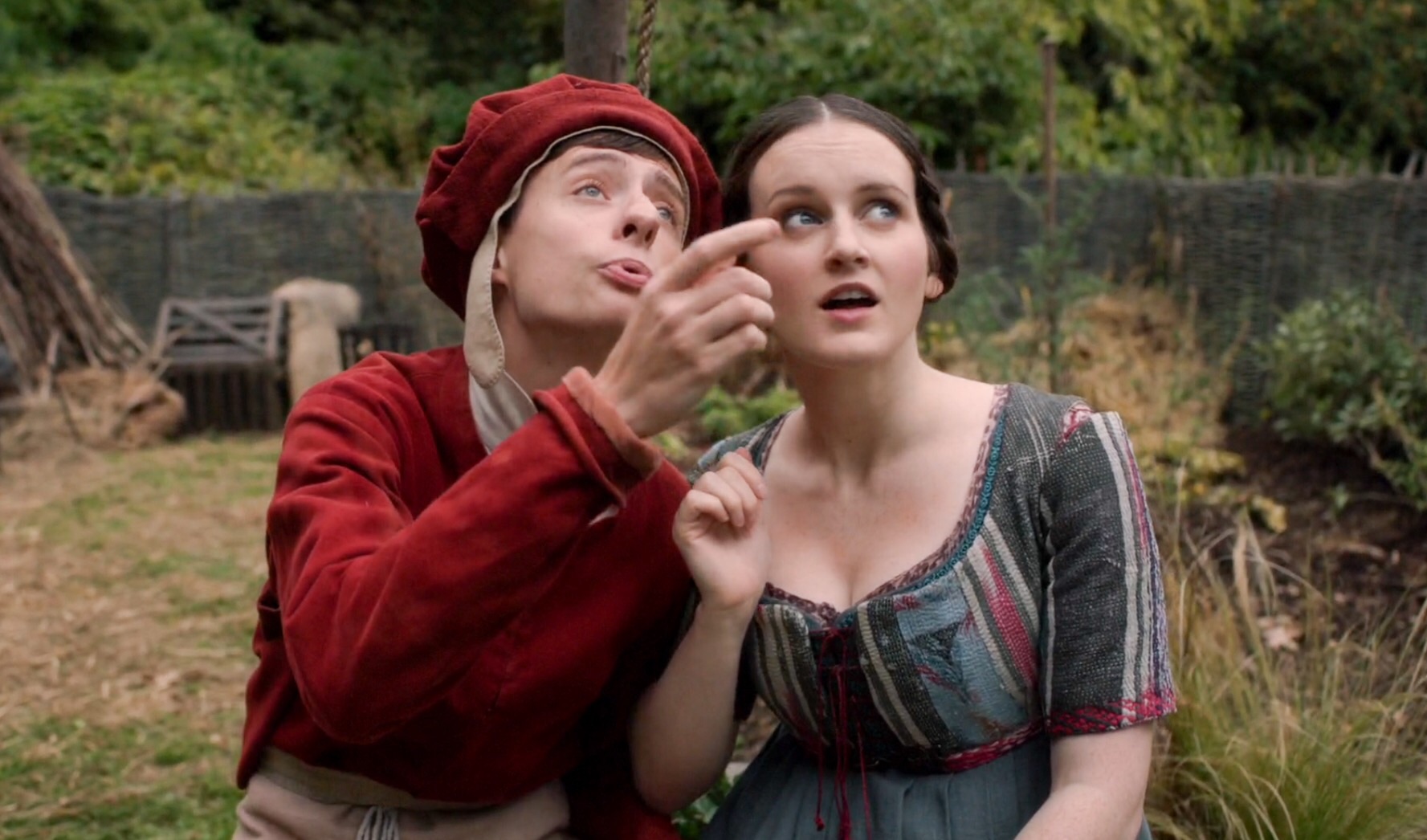 The Chef (Darren Evans) and Gwynne (Sophie McShera) sing about their prospective loathsome, er, wonderful future in "If I Could Share My Life With You"
Photos courtesy of River Studios, ABC Studios, Rhode Island Ave. and ABC (unless otherwise credited in clickable form)