Castle is a comedic take on crime noir dramas, with shades of the buddy cop show that thankfully never descends to fatuous slapstick. Richard Castle (Nathan Fillion), a successful mystery writer, initially helps the NYPD chase down a copycat killer modeling crimes on his books but finds he enjoys being a real sleuth so much, gets permanently attached to the unit by means of a friendship with the mayor. His bulletproof vest says Writer rather than Police and he promptly starts a whole new series based on the beautiful but complicated Detective Kate Beckett (Stana Katic). With his rather extreme out of the box thinking and quips by the dozen, Castle certainly manages to ruffle feathers. But he's just so darned charming and glib with a Peter Pan complex and vivid imagination, and although he tends to speculate wildly about cases, he does speak fluent 'murder' and applies principles of writing a good narrative to solving crimes.
The collaboration between author and detective produces dramatic results and Castle becomes a fixture at the police precinct. The show is pure fun, peppered with authentic personalities and relationships. There's some serious romantic tension between Beckett and Castle, and the writers beautifully capture various other characters like Richard's mother (Susan Sullivan), a diva of an actress with a good heart, and his conscientious and well-behaved daughter, Alexis (Molly C. Quinn). With fast paced action, rapidly moving investigations and subplots, the rollicking adventurous tone belies the rather gruesome task of investigating homicides. Alternately deadly serious and downright hilarious, Castle is always richly entertaining. The show doesn't take itself too seriously, as evidenced by the occasionally altered credits tailored to match a particular episode and the result is pretty much the perfect TV show, perfectly balancing intellectual smarts with understated comedic genius. I've absolutely loved all the seasons to date (7 thus far) and hope it continues for decades to come. – BETHANY
For more on this brilliant show, stop by the Internet Movie Database
A photo of Richard Castle (Nathan Fillion) for one of his books.
                                       So where did he get this?  It's not like there's a huge market for custom-made bulletproof vests.  Is there?
Detective Kate Beckett (Stana Katic) in one of her many, many different hairstyles.
Beckett is annoyed at Castle for basing a book character on her named Nikki Heat.  I'd be annoyed too – what a name rife with innuendo!
Castle has a wonderful relationship with his well-adjusted daughter, Alexis (Molly C. Quinn), a rarity in TV shows and movies.
Detectives Ryan (Seamus Dever) and Esposito (Jon Huertas).
Working a case with the whiteboard.
After finding a falcon feather on a body, Castle launches into a wild theory while ME Dr. Lanie Parish (Tamala Jones) and Beckett listen with resigned skepticism.  Episode "Murder Most Fowl". *groan*
In episode "The Wrong Stuff" Castle and Beckett investigate when someone is murdered inside a NASA-style experiment.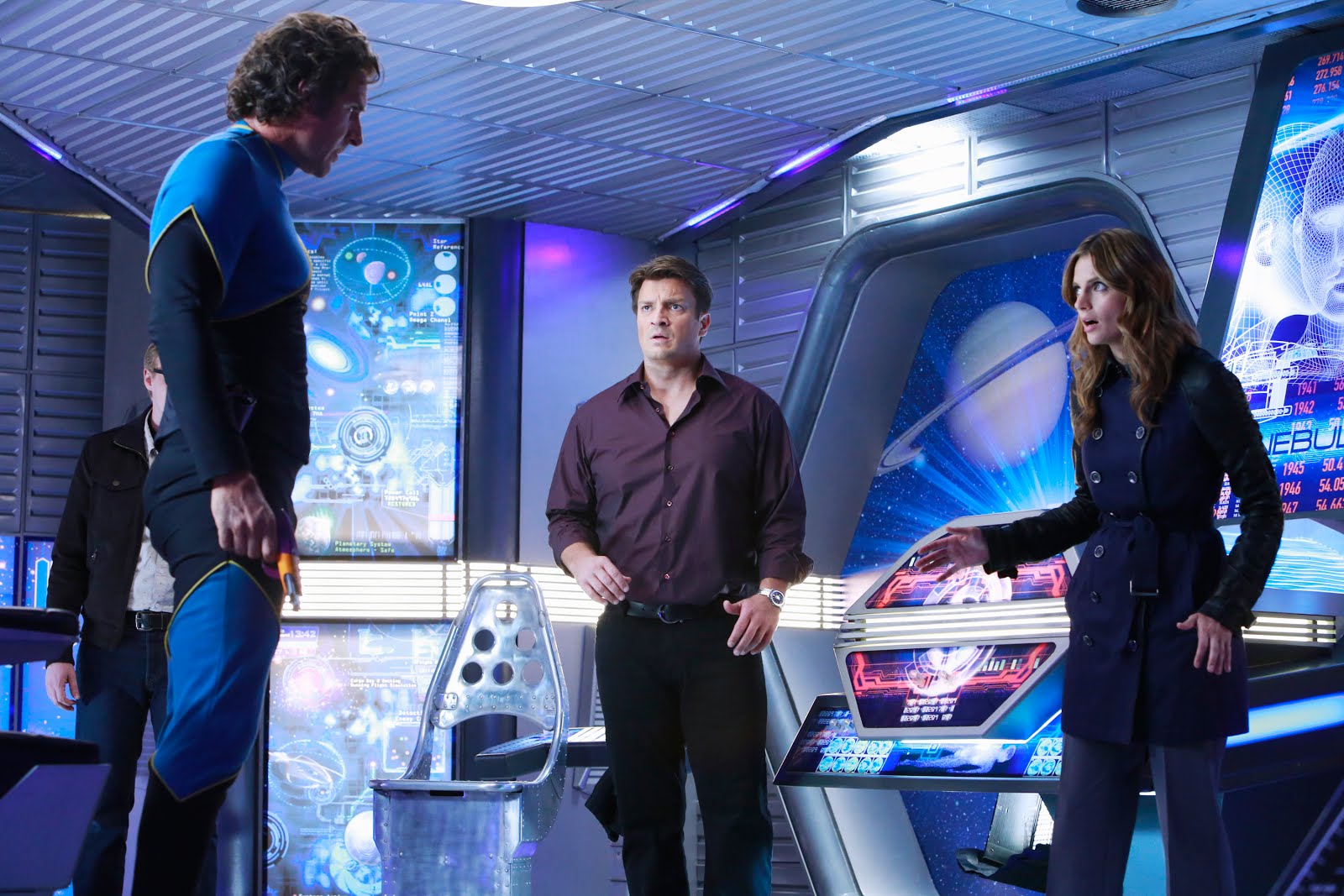 Murder at a sci-fi convention.  Castle's response?  "Shiny!"
Not so shiny, running into your teenage daughter in a very skimpy costume.
Noir themed episode "The Blue Butterfly".
Esposito and Ryan in episode "That 70s Show".
Infiltrating a Western "Cowboy Experience" ranch.
Castle's homage to classic film Rear Window.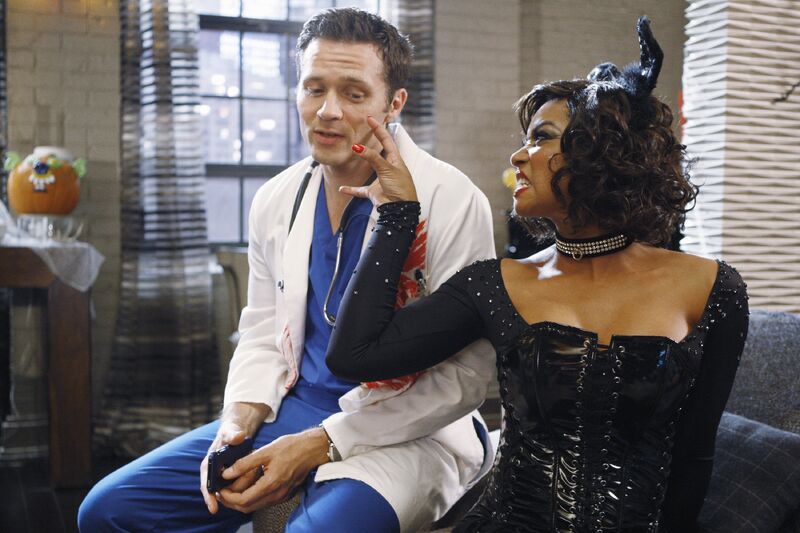 It's probably best not to ask.  Detective Ryan and ME Lanie.
                               Castle's mother, Martha Rogers (Susan Sullivan) never misses an opportunity to make a dramatic sartorial statement.  Seen here hamming it up in "That 70's Episode".
This show looks like a riot on set.  Here are some bloopers from season 1.  No spoilers, I promise!
Photos courtesy of Beacon Pictures, Experimental Pictures, ABC Studios, Experimental Pictures, The Barry Schindel Company, Milmar Pictures and ABC (unless otherwise credited in clickable form)