I'm a big fan of Welsh actor Ioan Gruffudd and he, er, kills it as Medical Examiner Dr. Henry Morgan on Forever. The premise is a riff on the theme of immortals living among us, similar to Highlander and the short-lived New Amsterdam starring Nikolaj Coster-Waldau (Jaime Lannister from Game of Thrones). Henry has lived for 200+ years, inexplicably never aging. Every time he "dies", he reappears shortly thereafter in the nude within a nearby body of water, which naturally leads to some amusing and deliciously exposed situations. Since the study of death is very much of interest to him personally, it's no surprise to find him working for the NYPD as a coroner. From his sartorial habits to his articulate speech, Henry exemplifies manners and social graces from a bygone era, a true gentleman. His closest relationship is with Abe, whom he adopted during World War II. Played by Judd Hirsch as pretty much his same character from Independence Day, Abe is the only person who knows Henry's secret and is frequently assumed to be some sort of uncle. Henry's assistant Lucas, played by Joel David Moore (Avatar), is a glib-tongued version of his character on Bones (and Avatar), and while he'd like to be friends, Henry is guarded.
Detective Jo Martinez (Alana De La Garza) teams up with Henry to solve some of the city's frequent homicides and is at first put off by his eccentricities and often inexplicable behavior but they soon develop an excellent rapport bordering on friendship . The writers keep dancing around the issue of her finding out about Henry's immortality and I sincerely hope she does, as it will add an extra dimension to the show. The plot puts an unconventional spin on the police procedural, spiking it with fantasy and adding multiple layers of mystery. I find it intellectually stimulating as well as incredibly entertaining and I particularly enjoy Henry's vast knowledge of the esoteric and the obscure. Treating the audience as confidante, Forever is a marvelous mix of the dramatic, the mysterious and the absurd and I commend ABC for this exceptional new show. On the flip side, I utterly condemn ABC for not only cancelling this after just one season, but ending it on a cliffhanger that will never be resolved. Gee thanks, ABC. – BETHANY
For more on specific details at this show, visit the all-knowing Internet Movie Database
For more on the fan campaign to get Netflix to pick up Forever, stop by their website
Is that a knowing grin or what?
Detective Jo Martinez (Alana De La Garza) and M.E. Dr. Henry Morgan (Ioan Gruffudd).
An 'Aha!' moment with Henry and his assistant Lucas (Joel David Moore).
Henry and his adopted son, Abe (Judd Hirsch) own an antique business, which is terribly appropriate given Henry's peculiar nature.
One handy thing about being immortal is you can try out things like poison to know for sure all the specific effects of dying from it.  Henry with Abe in the lab beneath the antique shop.
The one down side is he's liable to get arrested for indecent exposure when he pops back up in the East River, completely in the nude.
Jo and Henry test a theory in a homicide case.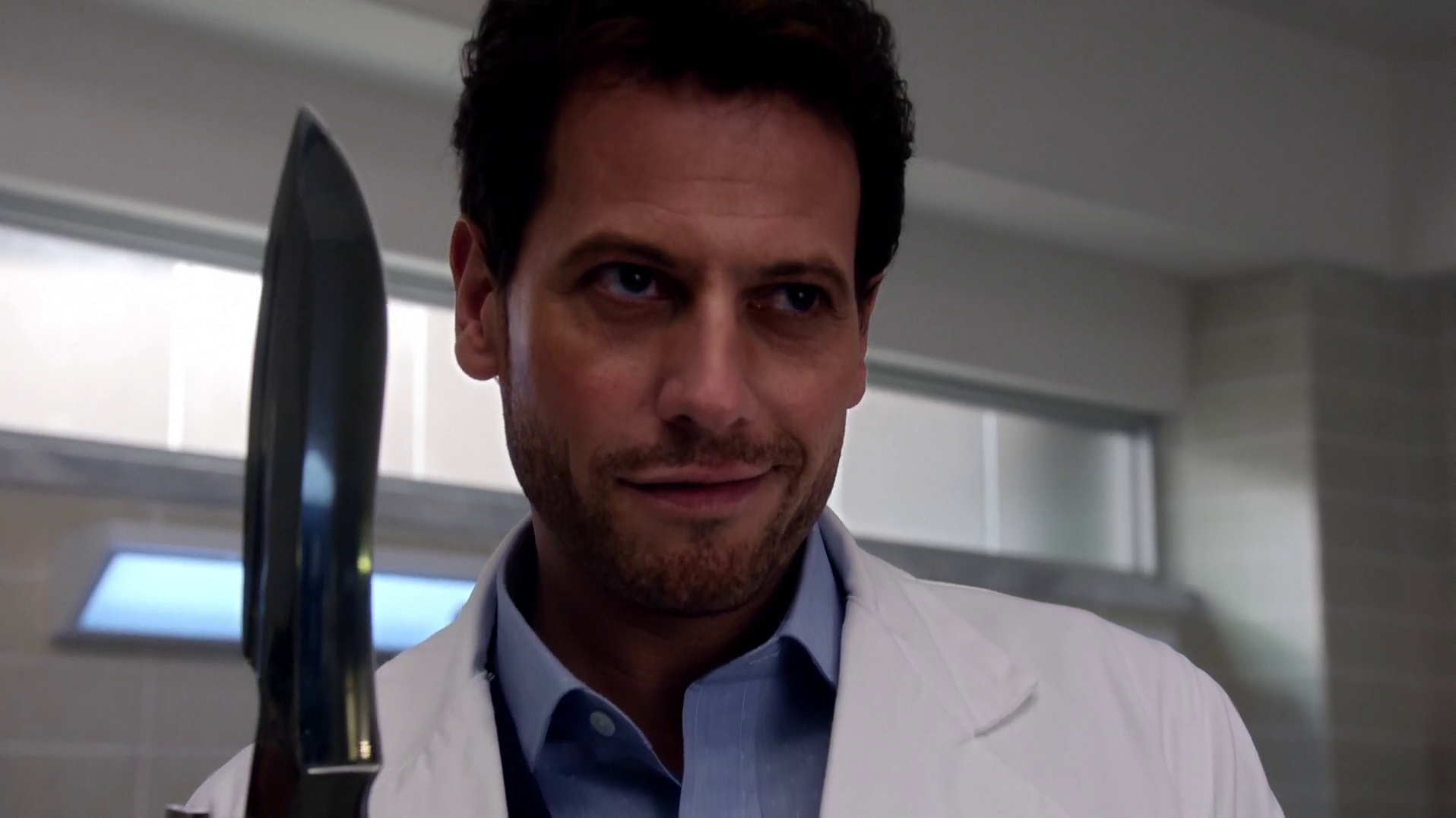 Henry likes to do his autopsies with a hunting knife and will sometimes brandish it to scare away annoying people.
Detective Mike Hanson (Donnie Keshawarz) is not a huge fan of Dr. Morgan's methods and finds his almost uncanny ability to stay a step ahead of lab results and general police work rather annoying
Henry Morgan in his original life in the 1800s.
                                      The period costumes for this show are really quite extraordinary.  The guy is pretty extraordinary too!  Also, Horatio Hornblower much?
Henry dancing with Abigail (MacKenzie Mauzy) in a flashback, a nurse he met in World War II while working as a battlefield medic.
                                   What happens if your love of a lifetime is a lot longer for you than it is for her?
Henry in another flashback.
At no point in this show does Ioan Gruffudd wear Spandex.  (The actor in The Fantastic Four)
Photos courtesy of Good Session, Lin Pictures, Warner Bros. Television And ABC (unless otherwise credited in clickable form)