Although Rango is an animated film, the plot seems to come straight out of a Clint Eastwood movie. A fish out of water tale (literally in the case of the goldfish from Rango's terrarium) where a city slicker winds up way out of his element in the West. He meets many interesting characters, but it's the prickly damsel in distress who beautifully voices her disgust. "Get your slimy, webbed phalanges off ma boots!" After his ignominious introduction to the town of Dirt, (yes, they really named the town Dirt. Enough said.), he claims to be a deadly gunslinger to garner some respect. But when there's a crisis of water shortage, everyone looks to Rango to solve their problems before the town goes bust. He learns a great deal about himself and slowly becomes the hero they all believe him to be. So what if all the characters are desert animals, and Rango himself is a chameleon, this is a great comedic western any way you slice it. I especially liked the gloomy mariachi band of owls serving as a sort of Greek Chorus, commenting on the proceedings and frequently making dire predictions.
Rango, voiced by the nonpareil Johnny Depp, provides much of the comedy through his actions and also by the juxtaposition of his cluelessness against the hard bitten residents of Dirt. The plot moves along at a rapid pace, the dialogue is snappy and crisp, and there are some truly hilarious bits as Rango stumbles about causing chaos (after a robbery, he calls on the townsfolk to form a "possum"). I particularly liked the chase scene set to Wagner's 'Ride of the Valkyries', but played on banjos. Priceless! Definitely a movie to be enjoyed by persons of all ages with something good to say about finding your courage and doing the right thing. "No man can walk out of his own story."
There was some controversy over the rather pervasive smoking throughout the movie (an anti-smoking organization said there were at least 60).  For this reason, there was a petition to change the rating to R, but nothing came of it and it remained rated PG. There's also some rather distressing visuals of an armadillo being run over on a highway (see below), but since it doesn't appear to do him irreparable harm, I'll let it pass.  Highly entertaining, cute but not trite, this movie has depth to it and richly deserved its 2012 Oscar. – BETHANY
For more on this quirky and unique animated film, visit the Internet Movie Database
Rango and Roadkill (Alfred Molina) – don't worry, he'll be just fine.
Beans (Isla Fisher) doesn't take too kindly to being accosted.
The doleful Mariachi band
Priscilla (Abigail Breslin), one of the most cynical inhabitants of Dirt.
Yeah, I don't think the hawk is going to think you're a cactus, Rango.
Rattlesnake Jake (Bill Nighy).
Rango leading the possum, er, posse.
Like any respectable Western, you have to have a shot framed by the sunset.
Hillbilly chase scene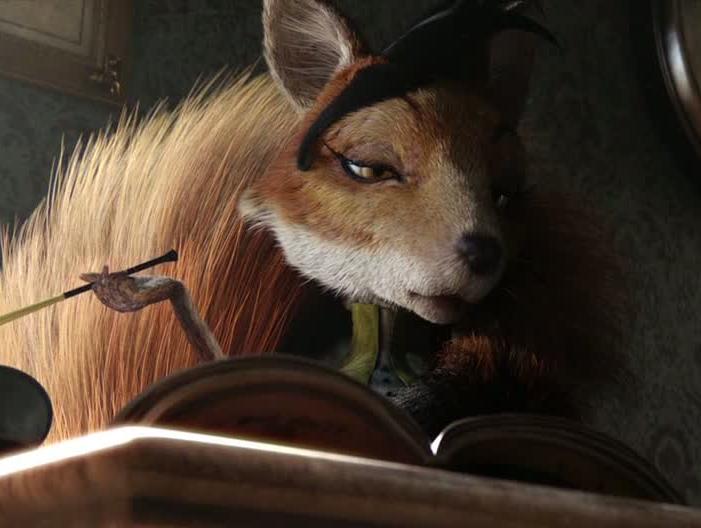 Angelique the Fox (Claudia Black), the Mayor of Dirt's receptionist.
                           A bunch of no-good varmints, headed by Bad Bill (Ray Winstone).
Rango and the Mayor, voiced by Ned Beatty, who plies him with water.
The Spirit of the West (Timothy Olyphant).  Let's see, what famous Hollywood gunslinger does he most resemble?
Photos courtesy of Paramount Pictures, Nickelodeon Movies, Blind Wink Productions, Industrial Light & Magic and GK Films (unless otherwise credited in clickable form)