You know it's a soap when you find it very difficult, if not impossible, to explain what's happening to someone else. This one is soaked in skulduggery, civilian espionage, scheming, backstabbing, social climbing, double-crossing and of course, the quest for *thunderclap* Revenge! It is populated by beautiful and also gifted actors, like the great Madeleine Stowe playing Victoria Grayson, the ultimate Hamptons Society Queen with the ethics of a cobra. Emily Thorne, once upon a time named Amanda Clark, returns to the Hamptons to seek vengeance for her father, a man wrongly accused and convicted of a heinous act of terror. The real villains are the Graysons, along with a host of other people who played a part in David Clark's demise. It's a genuine, if slightly guilty pleasure watching Emily wield her red sharpie pen, slowly crossing off each person on her list of wrongdoers after spectacularly orchestrating their downfalls.
This is a potboiler extraordinaire with fabulous plot twists, totally unexpected revelations, and a goodly dollop of romantic intrigue. It wholeheartedly embraces soapy clichés like amnesia, long lost siblings, love triangles, car crashes, excesses of the obscenely rich, and murder most foul, while still managing to feel believable (quite a feat!). Excellent fashion design, gorgeous dresses, jewelery, sets and locations, this show is visually stunning as well. Each episode is beautifully framed by Emily's voice, musing a philosophic observation about some aspect of life, setting the theme for each week's story and providing a window into Emily's soul. I'm completely absorbed in the story and look forward to each new episode. [The show ran for four highly successful seasons and was brought to an extremely satisfactory conclusion. I'll miss it but I loved the ending!] – BETHANY
For more on this twisty-turny adventure, visit: the Internet Movie Database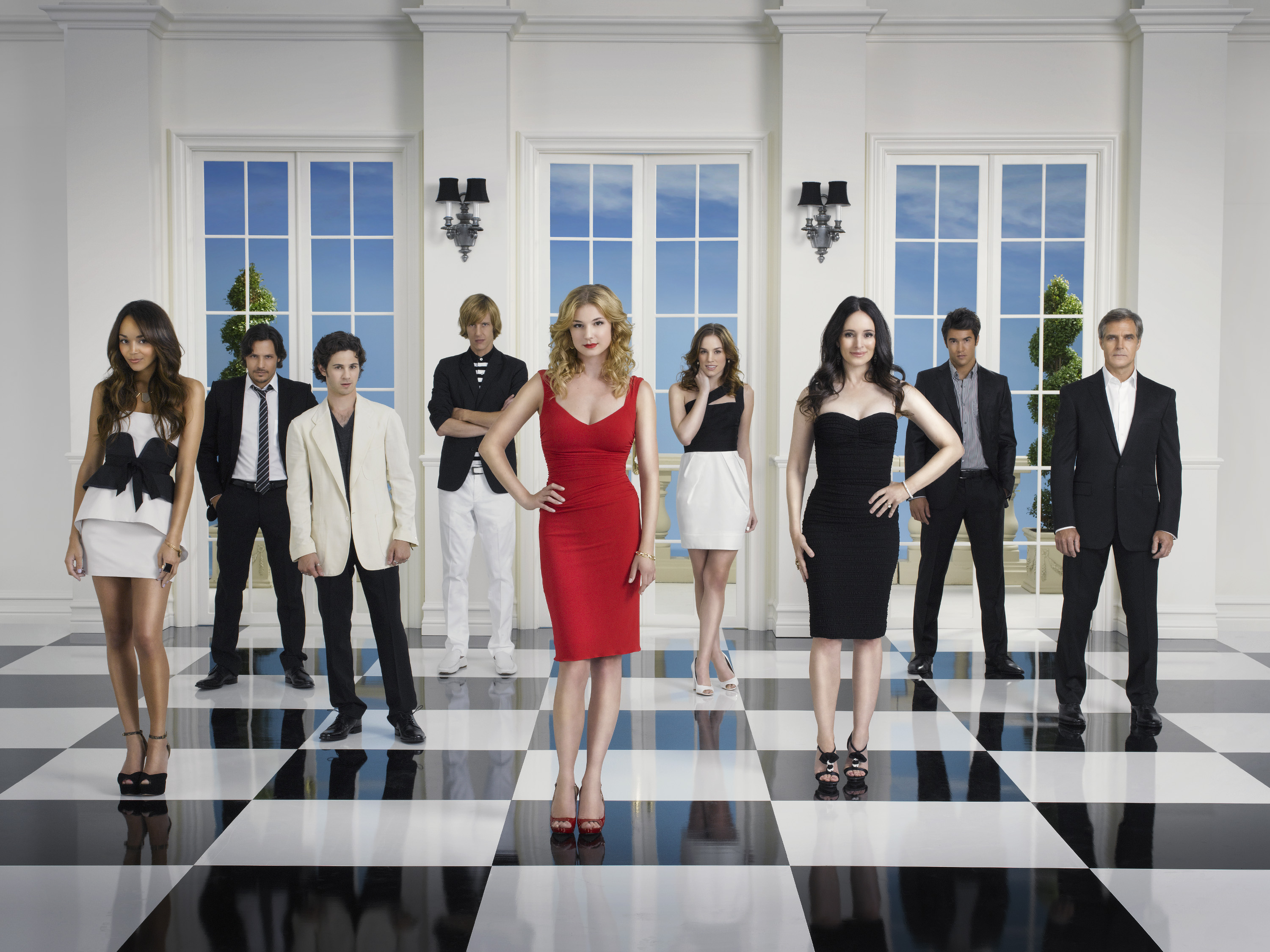 (Click to see a much larger version)  From left to right:  Ashley Davenport (Ashley Madekwe), Jack Porter (Nick Wechsler), Declan Porter (Connor Paolo), Nolan Ross (Gabriel Mann), Emily Thorne (Emily VanCamp), Charlotte Grayson (Christa B. Allen), Victoria Grayson (Madeleine Stowe), Daniel Grayson (Josh Bowman) and Conrad Grayson (Henry Czerny).
                                   Emily Thorne, dressed to kill (possibly literally), with her signature penetrating gaze.
Emily is way more than just a pretty face.
Digging the hat, Emily!
                                 Victoria Grayson reigning over a Hamptons event.
Jack Porter, Emily's childhood friend and one of the few people not on her hit list.  (Nick Wechsler)
                                                                Another friend-not-foe is tech genius Nolan Ross, always flamboyant and entertaining, who knows Emily's secret and heartily supports her quest.
This is the expression women wear when exchanging barbed pleasantries with a social enemy.
Daniel Grayson, privileged heir to a business empire and Emily's chosen mark.
Conrad Grayson – isn't he just the picture of a shady and self-satisfied one percenter?  He also looks like the lamp is growing out of his head.
Pretty and spoiled Charlotte Grayson – do these people ever do anything besides wear expensive clothes to parties?
Evidently not – another party at Grayson manor.
Emily planning her next move, looking through the contents of the double infinity box.
Jack Porter aboard the boat named for his lost childhood friend.
Fashion is a huge element on Revenge and here's your opportunity to buy stuff seen on the show:  Worn on TV,  Shop Your TV,  and many others to be found by simply Googling 'Revenge' and 'Clothes'.  Just beware of spoilers!
Photos courtesy of The Page Fright Company/Mike Kelly Productions, Temple Hill Entertainment, ABC Studios and ABC (unless otherwise credited in clickable form)