Like the great Nora Ephron said, "When you slip on a banana peel, people laugh at you. But when you tell people you slipped on a banana peel, it's your laugh." Based on the real life experiences of one Adam F. Goldberg, this show takes some epic childhood embarrassment and turns it into hilarious entertainment. It simultaneously pokes fun at the 80s but also revels in everything good about it. Tinged with a sweet nostalgia, we get to see the world through the eyes of a proto-nerd who narrates the proceedings while dispensing life lessons. Adam's family has a dysfunctional dynamic but it's never truly malicious. "In my family, we fight, scream and make horrible mistakes that go way too far. But an hour later, we're fine. That's what it means to be a Goldberg". Undeniably cheesy but with a sardonic edge, the show has a sort of innocence to it that is utterly charming.
While the curmudgeonly father (who has a distressing habit of walking around in his underwear) is great, the most entertaining character has got to be his wife, Beverly. Calling her a helicopter mom doesn't even begin to cover it. She's passive aggressive, totally intrusive with no sense of appropriate boundaries, overly protective of her children and with massively over-teased hair that should have its own zip code. Born in 1978, I grew up smack in the middle of the 80s. The decade was a hoot and a half and this show capitalizes on every silly fad and pop culture phenomenon. It's heartfelt while gamely mocking itself, a totally winning formula. I tend to laugh out loud while watching, cringe at some of the jabs and thoroughly enjoy myself. Thanks Mr. Goldberg, for allowing us to laugh with you and relive the 80s glory days. Now let's see, where did I leave that Debbie Gibson album … – BETHANY
For every conceivable pertinent detail about this show, visit the Internet Movie Database
Sean Giambrone portraying the real Adam Goldberg's younger self, the hub of the show which is based on Adam's actual videotapes shot when he was younger.
                       Each episode ends with a few clips from Goldberg's collection, showing the real people upon whom the story was based.
Beverly Goldberg (Wendi McLendon-Covey), a guilt trip expert who staunchly believes her children are beyond perfect (despite evidence to the contrary).  Don't let her smile fool you, there's a super-villain caliber mind behind it whose sole purpose in life is to further the interests of her offspring.
Erica Goldberg (Hayley Orrantia) with Charlie Sheen reprising his role in a salute to a seminal 80's movie, Ferris Bueller's Day Off.
Murray Goldberg (Jeff Garlin) in his favorite chair.  Be grateful that in this picture his pants are on, as his usual first move upon coming in the door is to remove them.
Barry Goldberg (Troy Gentile), a fair to middling teen with the self-bestowed nickname "Big Tasty" and delusions of greatness.  Is it just me or is it funny to have a guy with the last name 'Gentile' starring on a show about an obviously Jewish family?
Erica and best friend Lainey (AJ Michalka) attempt to start a girl band with limited success.
Adam at the premiere of Return of the Jedi.
Adam enlisting help to film his own version of TRON.
Barry gets excited about The Hulk.
Super cool, understanding and the perpetual voice of reason, George Segal plays "Pops", Beverly's father.
Let's be honest.  Pretty much every kid growing up in the 80s has a photo like this somewhere.
Ah, remember Roller Rinks?  What a fashion show!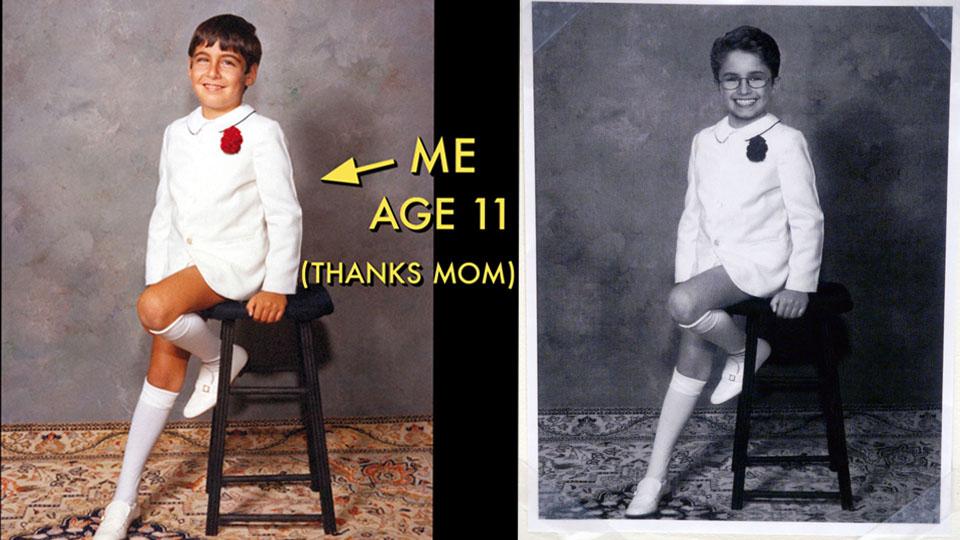 The accuracy of parallels between the real thing and the re-created version in the show is astonishing.  Good for Adam for having the guts to own up to this picture.
Photos courtesy of Adam F. Goldberg Productions, Happy Madison Productions, Sony Pictures Television and ABC