Initially I was skeptical about this show purely because of the title, a phrase with a lot of implications and connotations, few of them good. But my assumptions were very wrong as this is all about 20 something Ben Wheeler raising a baby alone in New York after the mother dumps little Emma on unsuspecting Ben, who hadn't the faintest idea his ex had ever gotten pregnant. Overnight he's expected to be a responsible father, completely changing his life (for the better, I might add). The Wheeler clan is eccentric, to say the least. Ben is a womanizer to his core, Danny (played by the gorgeous Derek Theler) is a rather dim but good-hearted professional hockey player and Bonnie Wheeler, their mother, is a loud, brassy blonde with no inhibitions.
The two non-familial characters involved are Ben and Danny's roommate Tucker, and childhood friend Riley. The latter is an interesting girl whom was once-upon-a-time many sizes bigger and has always been in love with Ben, who was too self-obsessed and shallow to notice. This might sound like a soap-opera set-up, but you actually do like the characters despite their flaws and quirks, and the show is quite candid regarding lots of rather serious subjects. Unbelievably funny and ridiculously entertaining, I've been enjoying this for several seasons now and it has yet to disappoint.  I'm also happy to report it has been renewed for season 5, which pleases me immensely.  – BETHANY
For more on the actors, directors, producers and everything else you might want to know, visit the Internet Movie Database
       Introductions, going counter-clockwise from the lower left corner:  Riley Perrin (Chelsea Kane), Danny Wheeler (Derek Theler), Ben Wheeler (Jean-Luc Bilodeau), Bonnie Wheeler (Melissa Peterman), Tucker Dobbs (Tahj Mowry) and center, Emma Wheeler.
An apartment full of guys gets turned upside down by one itty-bitty baby girl.
Anytime Danny wants to take off his shirt is fine by me!
                                                   If Riley was chubby and unattractive when she was younger, she certainly grew out of it.  Dancing with Ben in a competition.
Riley has a distinct fashion style.  Mostly professional wear as she works as a paralegal at a law firm.
I know it's a good thing to be comfortable with your body, but come on, Ben!
Tucker never misses an opportunity to hit on a girl.
                        Matt Dallas as Fitch Douglas, an impossibly perfect guy.
Is this the face of a hardened criminal?  – Bonnie gets herself into a LOT of trouble.  Constantly!  Although personally I think she should be arrested for that hairdo.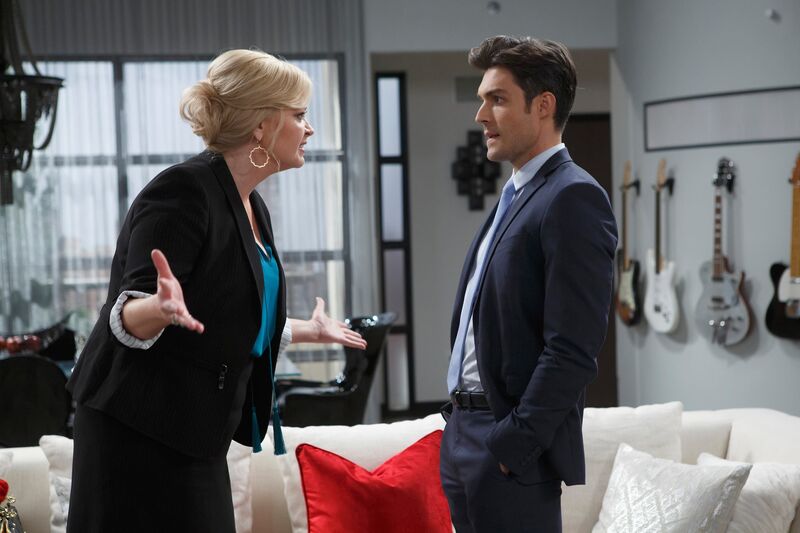 Bonnie and rival realtor Brad (Peter Porte).
One of Bonnie's many, many dates.  Actress Melissa Peterman, who plays Bonnie, also starred in the movie Fargo as, wait for it, Hooker #2.  She's pictured in my review.
The Wheelers never miss an opportunity to dress Emma in an adorable costume.
Wow, that is a really, really unfortunate bridesmaid dress.  According to Caroline on 2 Broke Girls, "Bridesmaids dresses should be called what they are – really expensive donations to Goodwill."
Photos courtesy of Don't Borrow Trouble and ABC Family Original Productions and ABC Family (unless otherwise credited in clickable form)