An unusual but very enjoyable movie that doesn't follow the typical path of a romantic comedy. I loved the premise, how the story unfolded, all the vast array of historical cameos, as well as several rather profound theories about the present, the past and human perception. Owen Wilson stars as Gil Pender, a struggling writer who has come to Paris with his fiancée, Inez (Rachel McAdams) and her parents on vacation.  Naturally because he's already engaged, he's all set to find his perfect match elsewhere.  Apparently in order to find The One, you must be with the Wrong, at least according to Hollywood.  It's obvious from the beginning that his relationship with Inez isn't great, as their outlooks on life are radically different.  Paul (Michael Sheen), a friend of Inez, is particularly unpleasant, described as "pedantic and a pseudo-intellectual".  So out of boredom or just wanting to get away from his irksome companions, Gil takes to walking the streets of Paris and that's when things get interesting. Naturally everything revolves around the clock striking midnight, announcing the arrival of a mysterious car whose occupants dressed in old-fashioned clothing urge Gil to join them.  The rest of the story is a lazy waltz through time where Gil meets various historical luminaries like F. Scott Fitzgerald (Tom Hiddleston), Ernest Hemingway (Corey Stoll), Gertrude Stein (Kathy Bates), Cole Porter, Joséphine Baker (Sonia Rolland), Salvador Dalí (Adrien Brody), T.S. Eliot, Henri Matisse, Paul Gauguin, Edgar Degas and Pablo Picasso.  (It seems the only artist left out is Vincent Van Gogh, which is a bit odd considering the movie poster.) Marion Cotillard and Léa Seydoux also star and the narrative is pure magic that will have great appeal to those fond of literature and art in particular.
But in spite of all that was great about this movie there was one pernicious aspect to it that all but ruined it for me (thus only two stars). Hollywood seems utterly incapable of making movies that do not have a political agenda and I'm sick of the constant demonization of the Republican party and its ideology. The protagonist is almost invariably a Democrat and all the "bad" characters are naturally Republicans. Perhaps Hollywood feels if it can just show America enough stories portraying Republicans as the bad guys it might have an impact come election day and influence the minds of the next generation. (Whether this works or not is dubious at best) I wouldn't mind politics being part of the story if it weren't for the constant slant towards the left that is ubiquitous in the entertainment industry. This movie, for all its magic and imagination, couldn't seem to put politics aside and just tell a good story. In fact, it was possible to tell which characters you were supposed to dislike because of their right wing views. I found the "Cheap is cheap" line to be particularly revolting and just for the record, conservatives do not universally equate dollar signs with value. A gift from the heart does not need to be expensive to be treasured. Enough with the constant misrepresentations and stereotypes! For any potential viewers whose beliefs incline towards the conservative, you might want to take some anti-nausea medication before watching this movie. Fabulous music, exquisite costumes, just enough bitterness to keep the sweetness from cloying and spectacular views of Paris, this movie could have been so much better if politics had just been left out of it. – BETHANY
For more on the impressive cast of this dreamy movie, drop by the Internet Movie Database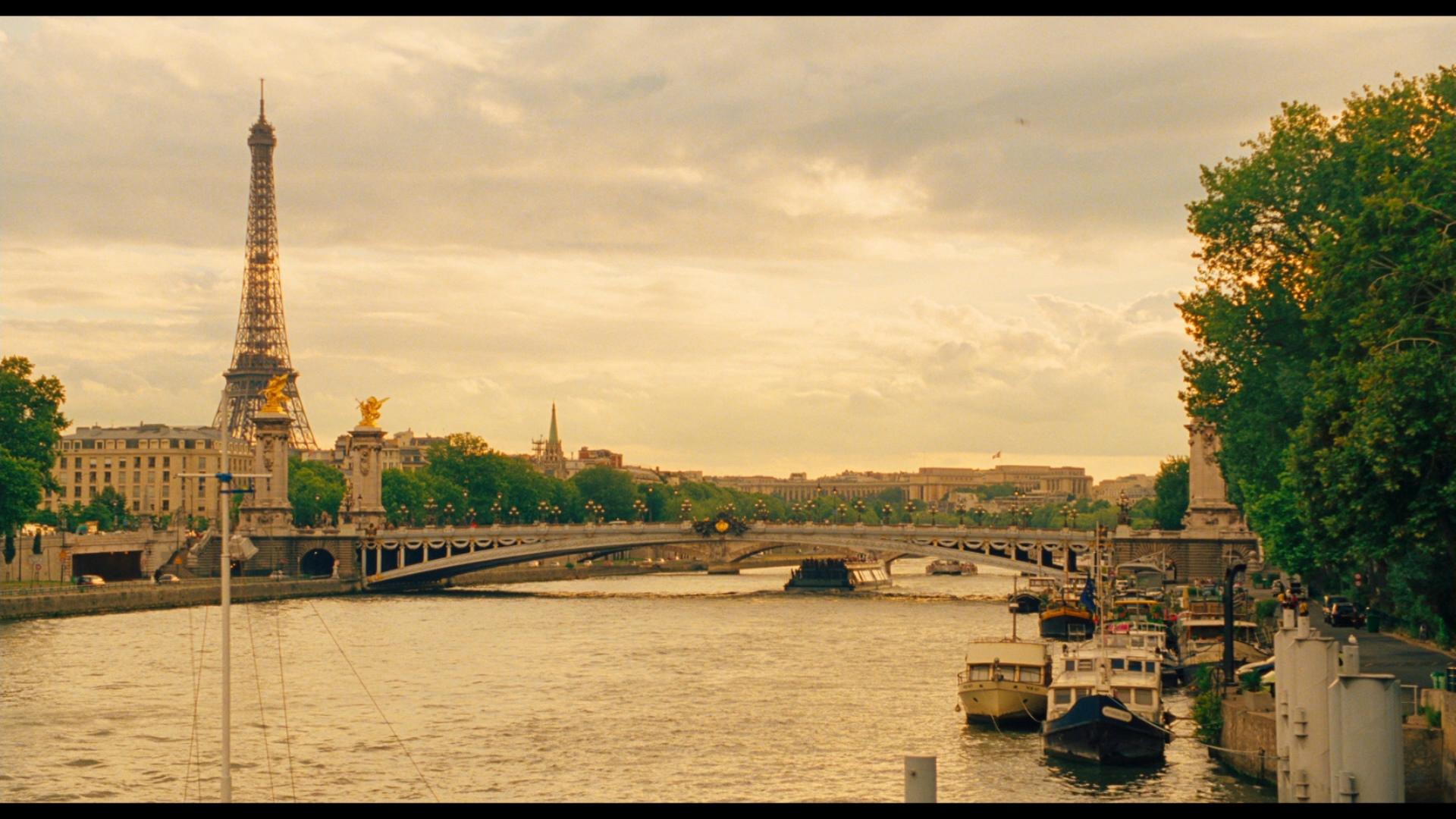 Could this place be any more gorgeous?  Gil (Owen Wilson) with Inez (Rachel McAdams).
All alone in the City of Love.
Who wouldn't want to join this party?
Zelda (Alison Pill) and F. Scott Fitzgerald.  Tom Hiddleston is almost unrecognizable but the look suits him.
Ernest Hemingway (Corey Stoll) – appropriately rumpled and misanthropic.
Adrianna (Marion Cotillard) and Gil discuss things near and dear to his heart.  Nice, er,  display of stuffed birds.  (Aflac!)
A very animated Salvador Dalí (Adrien Brody) gives liberal and unsolicited advice to Gil.
Moral of the story:  Good things happen when you wander the streets of Paris. (And vote Democrat) *gag*
Oooops, wrong movie shot of Paris.  So much for the Champs-Élysées, but at least the Arc de Triomphe is still standing!  (Photo from the movie Armageddon, courtesy of Touchstone Pictures, Jerry Bruckheimer Films and Valhalla Motion Pictures)
Photos courtesy of Gravier Productions, Mediapro, Pontchartrain Productions, Televisió de Catalunya (TV3), Versátil Cinema and Sony Pictures Classic (unless otherwise noted or credited in clickable form)