Warning: Do not ever under any circumstances eat anything while watching this show. You will deeply regret it, as this is definitely not for the squeamish. Brilliant "squint" scientists from the fictitious Jeffersonian Institute (a rather thinly disguised Smithsonian) team up with the FBI to solve hitherto unsolvable cases by applying state of the art technology and forensics. Expect a certain amount of gore, as the visual effects team really strives for realism in reconstructing crime scenes. The writing for this show is top notch with a great cast of characters. Since a lot of time is spent in labs, this isn't really an action show, but rather a cerebral thriller that focuses on science. Dr. Temperance Brennan (Emily Deschanel), nicknamed "Bones", is the best in her field (and she'll tell you so) as a forensic anthropologist but often doesn't understand things that cannot be quantified scientifically, such as emotion and human interaction. Her partner, Seeley Booth (David Boreanaz), is the complete opposite, a rough and tumble FBI Agent and ex-Army Ranger who is endearingly humble about being very, very good at his job. They say opposites attract, and the show has fun dancing around the "will they or won't they" romantic dilemma. There's a whole squadron of rotating interns at the Jeffersonian, allowing for a greater diversity and creativity for the writers to work with. I especially enjoy the interpersonal relationships at play as well as the witty and often educational dialogue. Well drawn characters with many, many sub-plots and complex back stories, this show is lots of fun while at the same time revealing the often disturbing dark side of humanity. Entertaining and thought-provoking with plenty of very human stories and some hilarious personalities, I absolutely love this show and am delighted with its continuing popularity. – BETHANY
This is another of my reviews that kept getting mysteriously bumped from the Netflix website.  I have a sneaking suspicion it was because my review kept edging out another user's review, because as soon as mine rated a spot higher than this particular review, mine would suddenly disappear.  Sad, when you think about it.  If the only way you can feel good about yourself is to put others down, you've got issues.
For more on Bones, visit the Internet Movie Database: http://www.imdb.com/title/tt0460627/?ref_=nv_sr_1
Dr. Brennan and Agent Booth (Emily Deschanel and David Boreanaz)
Booth and Brennan go undercover in a traveling circus to investigate a double homicide.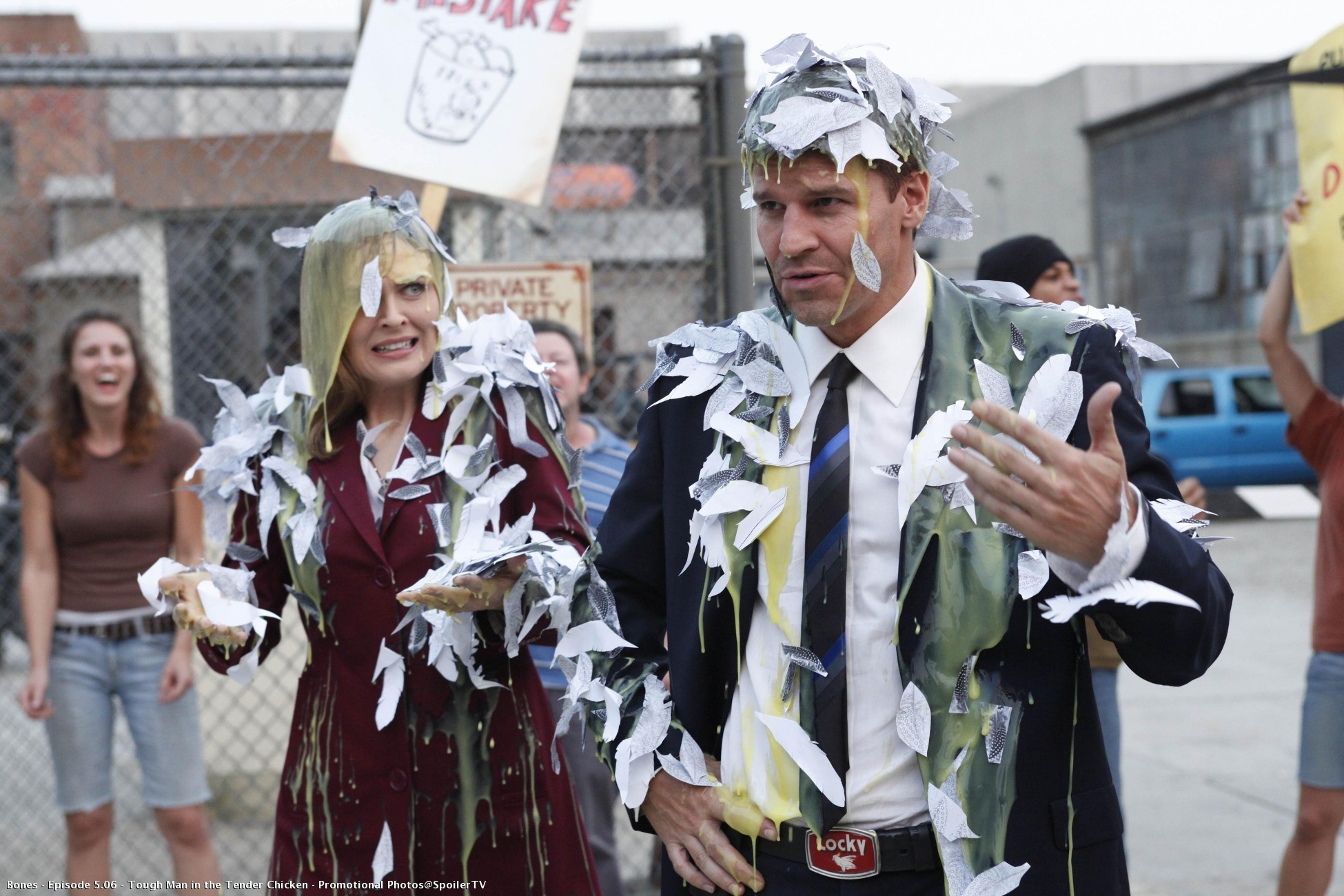 Don't ask, but this scene does suit Booth's signature 'Cocky' belt buckle.
"Hello, I'm Agent Booth from the FBI and this here's my partner Dr. Temperance Brennan from the Jeffersonian.  [Insert reason for visit]"  – You hear this speech a lot on the show.
Angela Montenegro (Michaela Conlin), Dr. Hodgins (T.J. Thyne) and Dr. Saroyan (Tamara Taylor).  Angela is a forensic artist and computer guru, Hodgins refers to himself as "the bug and slime guy" and Dr. Saroyan is an ex-coroner pathologist.
People at the Jeffersonian take Halloween very seriously.
Believe it or not, this is one of the least nasty pictures I can show you of an autopsy.  This poor schmo was found jammed under the merry-go-round in a children's playground.  Sick, huh?
Dr. Lance Sweets, an earnest FBI psychologist and profiler (John Francis Daley), who has never learned the art of not letting every emotion you feel show on your face.
Oh my, look at that terribly interesting monitor conveniently hidden from the camera because there's absolutely nothing on it!
Yes, that's who you think it is.  Billy Gibbons of ZZ Top guests stars occasionally as Angela Montenegro's father.
Photos courtesy of  Josephson Entertainment, Far Field Productions, 26 Keys Productions, 20th Century Fox Television and Fox