Thus far, this show has all the hallmarks of a Michael Bay summer blockbuster; exciting, full of explosions and very entertaining. I'll admit the premise does have quite a few plot holes, but I was enjoying myself so much that I told my brain to shut up and quit trying to apply logic where it wasn't wanted. Eric Dane does a great job being the stoic commander of the naval destroyer USS Nathan James, as does Adam Baldwin, the XO, who seems to thrive in military tough-guy roles. Rhona Mitra is excellent as a virologist who hopefully will have more luck than the one in World War Z and Sam Spruell, playing her associate Quincy, is thankfully no longer sporting the dire blonde paigeboy haircut inflicted on us in Snow White & The Huntsman.
It would be very easy to pick apart the plot of The Last Ship (a "primordial strain" of the virus frozen in the Arctic ice? Really? And how is this the last ship? What about naval aircraft carriers that can and do stay at sea for up to 5 years at a time, and what would be the point of weaponizing a virus already spreading out of control? Has the virus reached McMurdo air force base in Antarctica and if so, how? Because otherwise that would be a great base of operations), but even I have to acknowledge that if you've studied anything about the really virulent viruses out there like Ebola, Hantavirus, various hemorrhagic fevers, etc., there is absolutely no good reason why they haven't already wiped out humanity. No cure, no vaccine, close to a 100% fatality rate, why do pandemics eventually stop? Perhaps it is only a matter of time until one comes around that won't stop, which is why I think I'm going to like this show. Just realistic enough to enjoy but not weighed down by unnecessary technical and logistical details, I'm already itching for the next episode. Oh no, was itching one of the symptoms …? – BETHANY
Have you ever thought to yourself "Hey, I've seen that actor somewhere before" but you can't remember where?  Rather than wrack your brains trying to think of the answer, just look it up on the Internet Movie Database
Because this is a Michael Bay production: helicopters and pyrotechnics.
Super hot paleomicrobiologist (is that a real thing?) Dr. Rachel Scott, played by Rhona Mitra.
                               Commander Tom Chandler (Eric Dane) and XO Mike Slattery (Adam Baldwin).  Snazzy fake uniforms, guys!
                                                                Quincy Tophet, another of those paleomicrobiologists (seriously?  A real thing?), played by Sam Spruell
                        See?  Told you it was a dire hairdo.  Creepy!  (Sam Spruell in Snow White and the Huntsman –  photo courtesy of Roth Films and Universal Pictures)
          Lt. Danny Green (Travis Van Winkle – and yes, I'm sure he's heard all the jokes) and Captain Chandler.  In this case, he is referred to as 'Captain' as a courtesy because he is the Commanding Officer of USS Nathan James.
Biohazard suits because hey, there's a virus loose and stuff!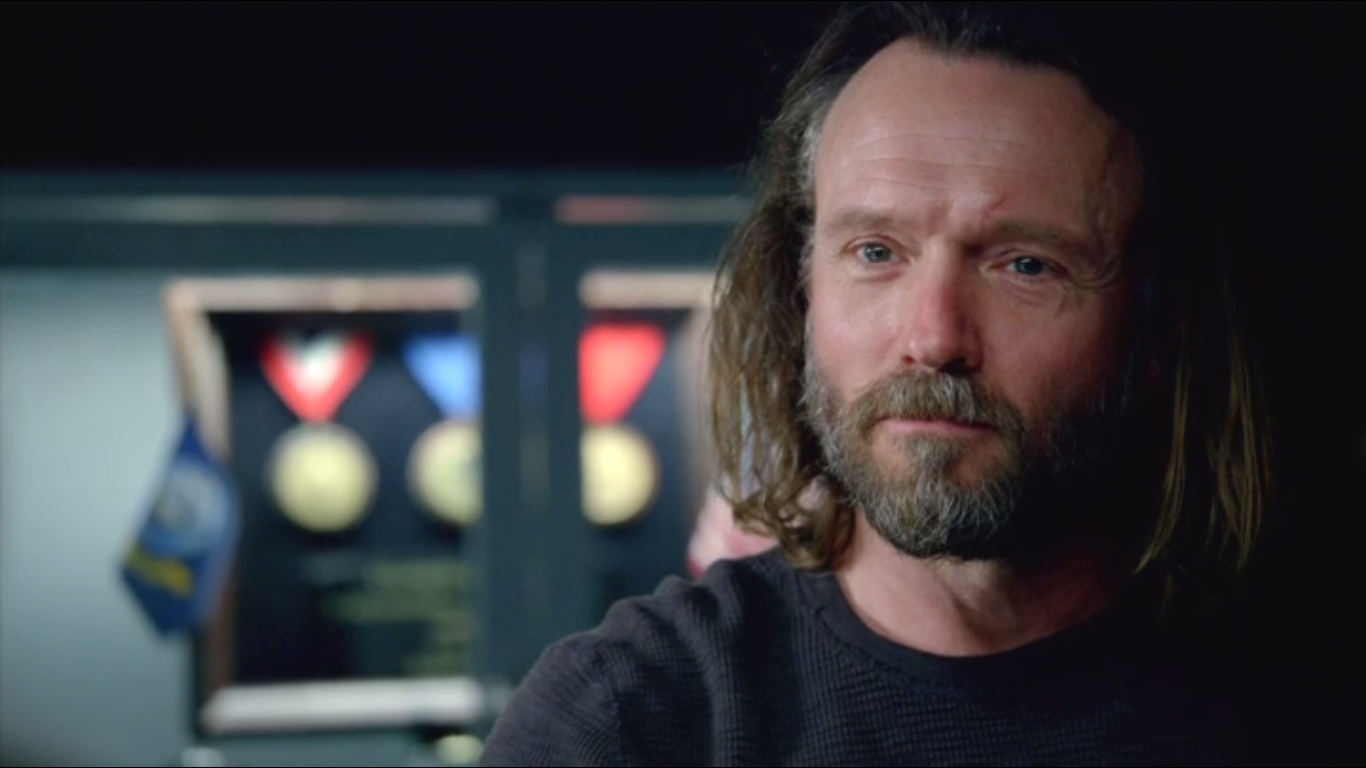 Tex, a private security contractor (John Pyper-Ferguson) and I won't tell you anything else about him because that would be a spoiler.
Nice beauty shot, no?
Photos courtesy of Channel Road Productions, Platinum Dunes, TNT Original Production and Warner Bros. Television (unless otherwise noted)