If you're looking for a movie that seems designed to wallow in misery and is depressing in every conceivable way, then this is the movie for you. This is a dark gothic period piece that combines eroticism with the macabre. Elizabeth Olsen plays Thérèse Raquin, a child whose father leaves her with an aunt (played as creepy and passive-aggressive by Jessica Lange) who proceeds to press her into service as companion and nurse for her sickly son Camille. Thérèse grows up, abandoned and eventually orphaned by her father, and on the eve of the family's move to Paris is informed that she is to marry her cousin Camille. Thus her life continues in quiet desperation, trapped in a loveless marriage to a prosaic, infantile and contemptible worm of a man. Camille is well played by Tom Felton, whose natural good looks are twisted into something truly revolting by means of an appalling stringy and lank hairstyle reminiscent of a comb-over. In sharp contrast, Camille's childhood friend Laurent is an artistic brooding bomb of virility and romance (played by Guatemalan actor Oscar Isaac) and he and Thérèse get swept up in a passionate affair. Their illicit antics are the best part of the movie but the far-reaching consequences of their actions spread like an insidious poison, tainting everything it touches. Tragedy, guilt, grief and eventual hatred run wild, pushing the narrative to its final gasp of breath before the credits roll. If you like stories that circle above the drain to hell, then by all means, watch this. I did not enjoy it but can still appreciate the performances given by the cast. Gloomy, sad and horrifying, this film demonstrates a lamentable fascination with the darker aspects of life. The only antidote may be a Disney movie, so consider carefully before watching this. – BETHANY
If you want more information on this festival of grief, visit: http://www.imdb.com/title/tt0409379/?ref_=nv_sr_1
Elizabeth Olsen as Thérèse Raquin.  The film is dark both thematically and literally, as dim lighting is used to subtly underscore the disturbing nature of the story.
Tom Felton as Camille.  No idea how they gave him that hair, but it's awful, isn't it?
What a handsome groom-to-be.  Poor Thérèse!
But I don't want to marry you!  Too bad, honey.
Camille and Madame Raquin (Jessica Lange) all dressed up for the wedding.  Yeah, curling it is going to make all the difference with that hair.  Yech!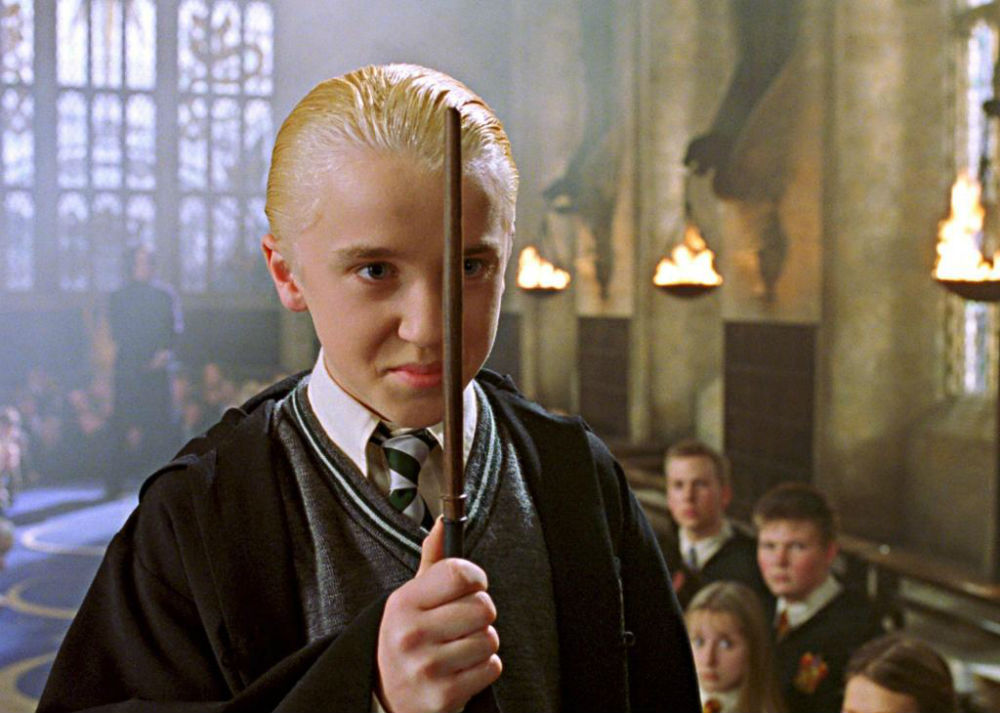 Ooops, wrong Tom Felton movie.  (image found at http://www.dek-d.com)
                Putting off the inevitable.
  In rather sharp contrast to pathetically repugnant Camille, Oscar Isaac as Laurent LeClaire is a dreamy dish of yummyness.
                                                   I mean look at the guy!  All brooding, slightly disheveled and artistic, he's pretty much female catnip.
                                              And here's where things get interesting.
Très érotique!
     A very awkward trio.
Thérèse and Laurent take matters into their own hands.
This sequence may be the most well lit in the whole movie, which may or may not be on purpose.
Things get very dark indeed.  You can barely see Jessica Lange!
From bad to worse …
Photos courtesy of LD Entertainment, Work in Progress, Exclusive Media Group, Pioneer Pictures, Wonderful Films and Roadside Attractions