An above average fantasy show that is thought-provoking and entertaining all at the same time. Isn't Darken Rahl just the best name for a villain? Beautifully complex personalities and relationships, full of moral dilemmas and people fighting the good fight, this isn't just frivolous fluff. Very good on its own merits but I gave it five stars because it introduced me to the Sword of Truth series of books by Terry Goodkind for which I am profoundly grateful. A master author who writes with great clarity and vision, I inhaled all 12 books and then read them again, savoring them like really good chocolate. As good as the TV show is (based loosely on books 1 & 2 in the series, Wizard's First Rule and Stone of Tears), it barely scratches the surface of Goodkind's richly imagined world. As far as I know, he came up with a truly unique kind of magical being when he dreamed up the Confessors. Their touch can overwhelm a person's mind, making them totally subservient and utterly loyal to the Confessor, willing to do absolutely anything she asks. Often chosen as a last resort for condemned prisoners trying to prove their innocence, Confessors can pull the absolute truth out of anyone but the process is irreversible. The show does a great job portraying Kahlan's power by having the irises of her eyes swirl to black as she releases her will, whereas in the books the effect is described as "thunder without sound".
The Mord-Sith are also well done (another unique construct) with Cara as an extremely conflicted character. Mord-Sith are terrifyingly powerful women in leather whose cruelty and viciousness take sadomasochistic fanaticism to a whole new level and like the Confessors, they are always female. Goodkind evidently believes (quite rightly so) the female of the species is much more deadly than the male and many of the power players in his world are women. It should be noted this TV series is not, repeat, not a replica of the books in any way shape or form.  The writers used the first two books in the series as a jumping off point and then did all sorts of things with it.  So consider this an impression of Terry Goodkind's work, but there's a vast gulf between what the TV show does and what's in the books.  Epic, original, often terrifically funny and profoundly philosophical, Legend of the Seeker is a good take on a truly spectacular series of books and I highly recommend both of them. – BETHANY
For more on the specifics of Legend of the Seeker visit: http://www.imdb.com/title/tt0844653/?ref_=nv_sr_1
For information on the Sword of Truth book series, visit: http://www.terrygoodkind.com/books.shtml
There's a lot of pictures for this show because frankly, I couldn't choose which ones to leave out.  Enjoy!
              Hey, I'm just a woods guide from Hartland.  I'm nothing special.                     Craig Horner as Richard Cypher.
                             See?  Woods.
Hoo!  *sigh*  Also, more woods.
OK, maybe I'm the Seeker after all.
Kahlan Amnell (Bridget Regan), the Mother Confessor, followed by Richard and Zedd.
Kahlan holds the Sword of Truth.
Wizard Zeddicus Zu'l Zorander (Bruce Spence), more commonly known as Zedd.
               Kahlan, Rihard and Zedd.  You know, the Midlands look an awful lot like New Zealand.
Zedd undercover – he makes a very unattractive woman.
Darken Rahl (Craig Parker), flanked by two Mord-Sith.
    Cara (Tabrett Bethell), a Mord-Sith.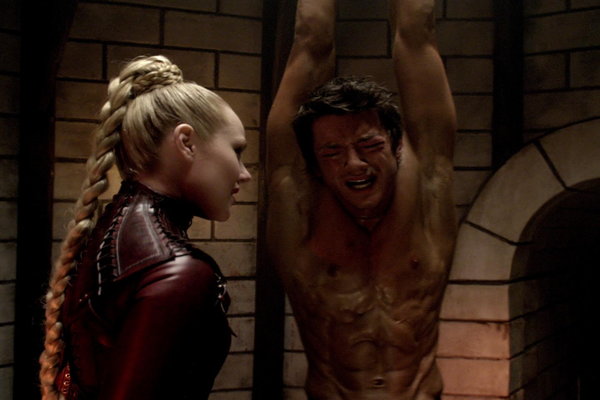 Mord-Sith Denna (Jessica Marais), "training" Richard.
             Sister Nicci (Emily Baldoni), a sorceress also known as Death's Mistress.
Shota (Danielle Cormack ), a Witch Woman who resides in Agaden Reach and whose motives and loyalties are very unclear.
                                                                  Chase Brandstone(Jay Laga'aia), a Boundary Warden of Hartland and friend of Richard.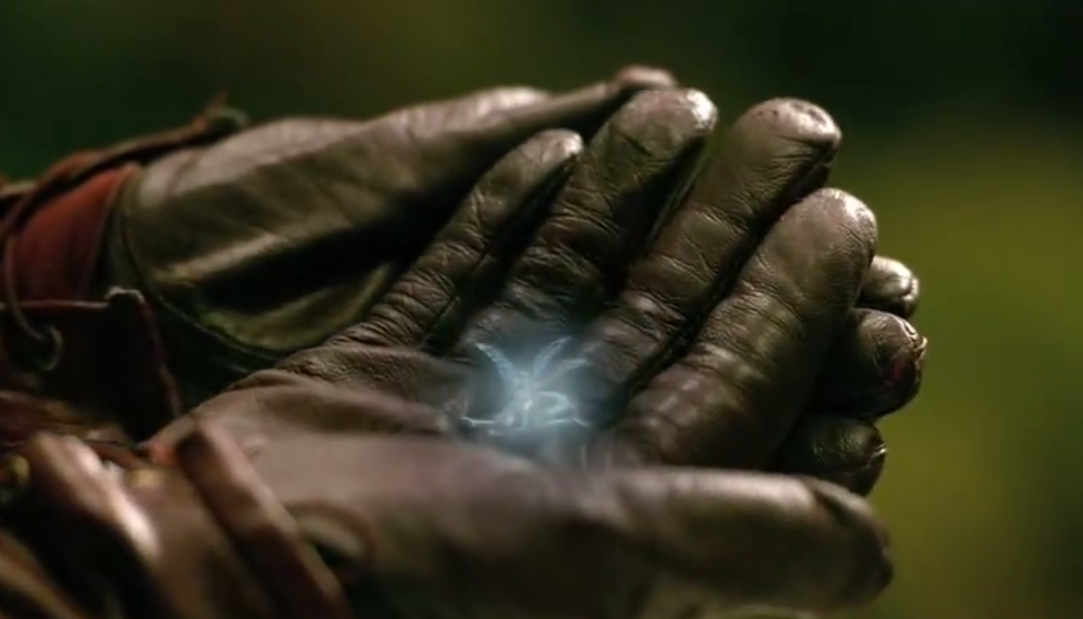 A Night Wisp named Shar.
Bummer!  Captured by D'Harans.
         Kahlan on the run with her sister Denee (Tania Nolan).
Aydindril, seat of power for both the Confessors and the Wizards.
Kahlan and Richard with Annabelle (Aimee Teegarden), another Confessor.
Zedd and his brother Thaddicus (Jon Brazier).
                                                                         A very, very unhappy Cara.  Mord-Sith do not wear dresses!
                           Richard and Kahlan go swimming.
The trailer for the premiere of Legend of the Seeker:
Photos courtesy of ABC Studios, Buckaroo Entertainment, Ghost House Pictures, Paperboy Productions and Renaissance Pictures