A cute and surprisingly intelligent animated family movie!  Very funny and thoughtful, it is entertaining from start to finish with snappy dialogue and extremely creative visuals. I got a real kick out of all the completely made-up creatures that inhabit this neolithic world, especially the large cats and little lemur-mice type things connected by a single tail (which upon further research turns out are called 'Trip Gerbils'). Heartwarming and sweet, it is largely about the relationship between young daughter Eep (voiced by Emma Stone) and her over-protective cave man father Grug (Nicolas Cage) who is cautious to a fault. The family dynamic is thrown for a loop when their world undergoes cataclysmic changes, destroying their cave home and forcing them to seek safety elsewhere. It is further complicated by the appearance of Guy, a slightly more creative thinker than the average cave man to whom Eep takes an instant shine, much to Grug's consternation. There's quite a lot of substance to the plot which makes it much more interesting than the usual animated fluff. I'm 35 and enjoyed it tremendously. Yes, of course there are some silly one-liners and similar, but they are kept to a minimum. I always love stories about relationships between fathers and daughters, a special bond that inevitably undergoes particular strain as the young girl grows into a woman. Grug is just so sincere and cares deeply about his family while Eep is a dreamer and constantly yearns for the unknown and adventure. Adorable and sweet but with enough spice to keep it from cloying, this film is wonderful and earns a solid four stars. Deeply satisfying and hopeful, I absolutely loved the way it ends and would like to see a sequel. Also be sure to watch to the end of the credits for a bonus scene. – BETHANY
For more on this fabulous family adventure, visit:  The Croods on IMDB
                     Clockwise from bottom left:  Thunk (Clark Duke), Grug (Nicolas Cage), baby Sandy (Randy Thom), Ugga (Catherine Keener), Guy (Ryan Reynolds), Eep (Emma Stone) and Gran (Cloris Leachman).
      Eep always reaches for the light and longs to explore uncharted territory.
The Croods on the hunt for breakfast, riding a Girelephant.
"Release the Baby!"
"I was in love once. He was a hunter, I was a gatherer. It was quite the scandal. We fed each other berries, we danced. Then father bashed him on the head and traded me to your grandfather."
Guy and the Croods.  Spectacular scenery, no?
Pirahnakeets engulfing a Ground Whale.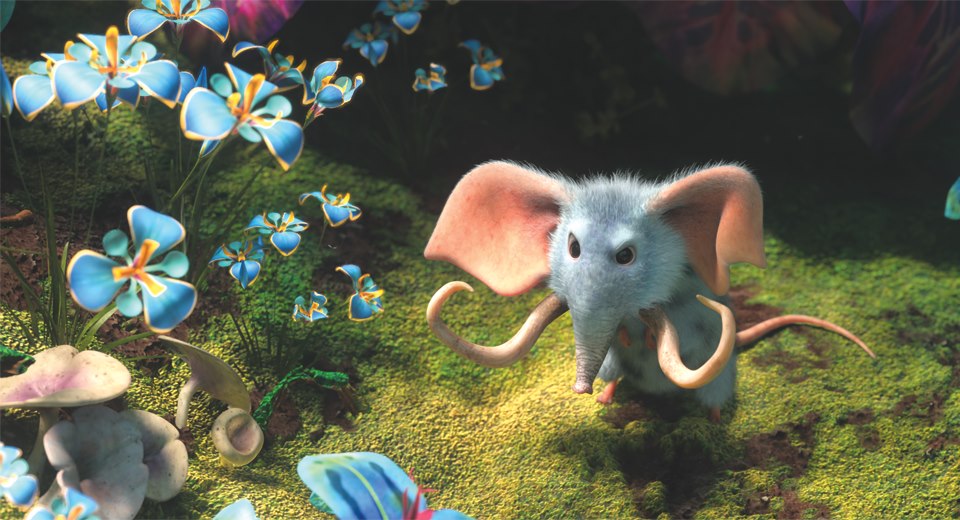 The oh-so-adorable Mousephant.
                              The Bear Owl, Ursa Nocturna-Ocularis.
For more on these great creatures, usually a mash-up of ones familiar to us, visit: The Croods Wiki  Just be aware there may be spoilers in the descriptions.
Check out the facial expressions.  Eep kinda stands out.
"Tomorrow … A place with more suns in the sky than you can count … A place not like today, or yesterday. A place where things are better."  – Guy
Photos courtesy of Dreamworks Animation and 20th Century Fox