Disney goes anime with this charming film about the relationship between a gifted young boy and a medical companion robot, Baymax.  Since the setting is already a fusion of San Francisco and Tokyo (San Fransokyo), it won't be surprising that the story is a bit of a mash-up of Real Steel, The Matrix, TRON, Iron Man, WALL-E, The Iron Giant and The Incredibles, plus a soupçon of Stargate.  But whatever, we're in a comic book-inspired future, so pretty much anything goes.  Hiro Hamada, a tech prodigy, is wasting his talents on robot fighting (despite the fact that he wins a lot of money doing so).  At least, according to Hiro's older brother, Tadashi.  So in a slightly sneaky move, Tadashi takes Hiro to 'nerd school', where he meets Tadashi's friends and fellow nerds.  After basking in Nerdvana for a while, Hiro decides he absolutely must enroll as a student and thus begins the adventure.
It's an imaginative and fun story, spiked with tragedy and loss that keeps the characters real and and accentuates the journey Baymax makes as he learns to understand humans.  Full of car chases, flying, a freaky villain, some very cool tech, the birth of super heroes and more, it also subtly underscores the process of handling grief and moving on with your life.  Tadashi built Baymax to be as non-threatening as possible, a robot that looks like an overinflated marshmallow.  He's utterly adorable, waddling around trying to be helpful, a giant squeak toy.  So in order to right a wrong, naturally Hiro decides to transform him into a battle bot, complete with an Iron Man suit.  Why do movies have to take soft loveable robots and turn them into warriors?  I would have liked the story better if Baymax had learned to use his own skills to help instead of getting armor and learning martial arts à la The Matrix by simply downloading it from a chip.  But I do have to admit all the sweet gadgetry he gets is pretty awesome.
This isn't anywhere near as good as Wreck-It Ralph or any given Dreamworks/Pixar movie, but it is entertaining and not overly saccharine.  I liked the comic book vibe with the sci-fi spin and the visuals, particularly of the city, are breathtaking.  The soundtrack was excellent and I really appreciated the way the script elegantly explored ethics, morals, emotions and what it really means to be a hero.  Parts of this movie will make you reach for a box of tissues and others will induce a smile so big it hurts your face.  One tiny nitpick is the title of the movie won't make sense until the very end, but be sure to watch through the credits, as they're riddled with epilogue type stuff and a few extra scenes.  I've never seen an animated children's movie handle such difficult issues like grief, loss, anger, revenge and empathy with such finesse.  With an ending perfectly set up for sequels, perhaps there will be more of them.  Big Hero 6 is funny, engaging and thoughtful with a great message about being yourself, chasing your dreams and caring for the people around you and thus earns a solid three stars.             – BETHANY
For more on Big Hero Six, visit the Internet Movie Database
Wasabi (Damon Wayans Jr.), Honey Lemon (Genesis Rodriguez), Hiro (Ryan Potter), Baymax (Scott Adsit), Gogo Tomago (Jamie Chung) and Fred (T.J. Miller).
Hiro's older brother, Tadashi (Daniel Henney)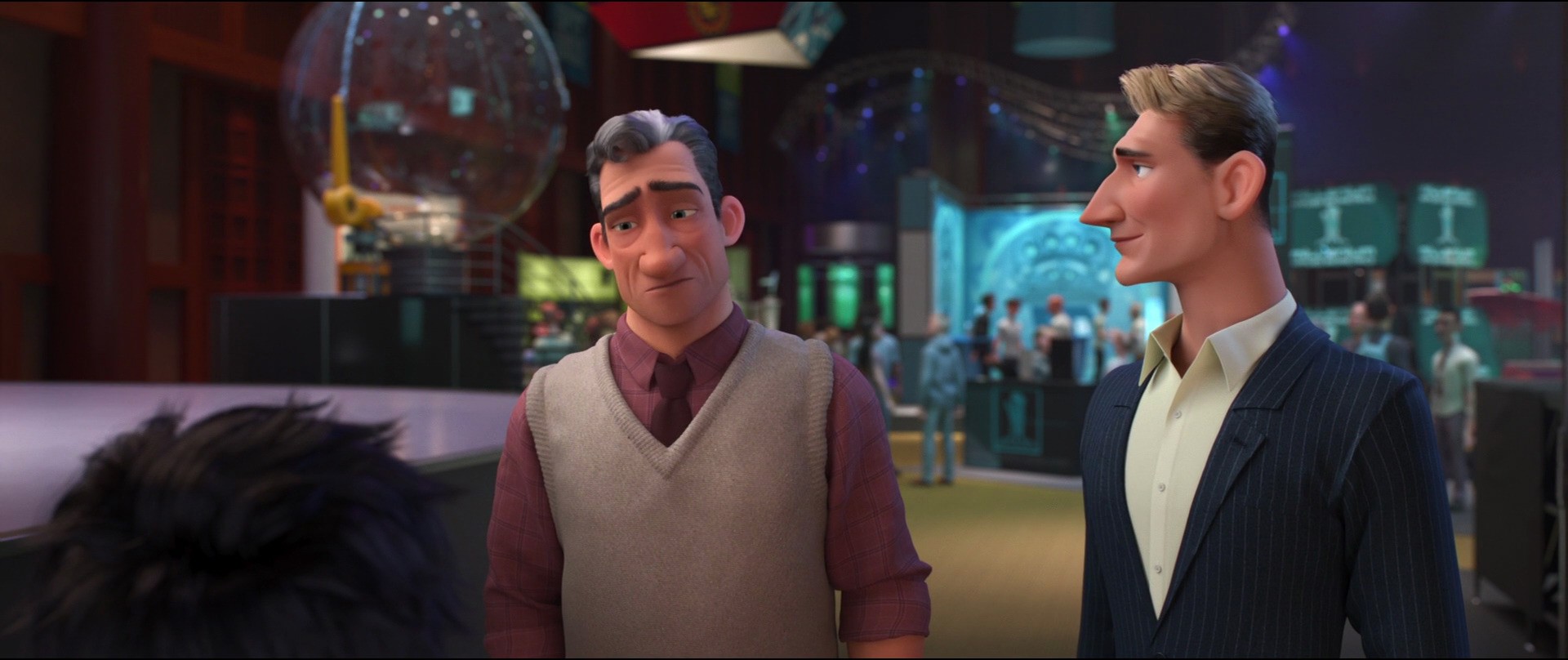 Robert Callahan (James Cromwell) and Alistair Krei (Alan Tudyk): friends, colleagues, rivals, or enemies?
Hiro and Baymax getting ready to search for answers.
Answers in regards to this guy, who is obviously a super villain.
                            Aunt Cass, voiced by Maya Rudolph.
The Big Hero Six.
I dare you not to fall in love with this lovable huggable robot.
Does this suit make my butt look big?
You can always trust a robot who is kind to animals.
Tadashi's lab, colloquially known as 'Nerd School'.
Set in a Japanese fusion version of San Francisco, which is now San Fransokyo.  Not sure which Catholic saint had that name, but hey, it's anime.
The Japanification of the Golden Gate bridge was my favorite.  Subtle, but cool!
Photos courtesy of Walt Disney Animation Studios and Walt Disney Pictures