Rejoice, fans of Firefly, because you will absolutely love this show.  Syfy hit the sweet spot with Killjoys, a rough and tumble space adventure featuring a trio of misfits that work as interplanetary bounty hunters.  Dutch (Hannah John-Kamen), a smoking hot woman incredibly skilled in just about everything thanks to a mysterious and definitely hazardous past, and John Jaqobis (Aaron Ashmore, Warehouse 13) have worked as a highly successful team for the Recovery and Apprehension Coalition, or the RAC, for several years.  Commonly called Killjoys, RAC agents operate across the galaxy but our story focuses on the Quad, a solar system comprised of one planet and three moons.  Killjoys are licensed to fulfill warrants, which range from finding and apprehending people with bounties on their heads to transporting valuable and/or dangerous goods.  They have broad authority, but pride themselves on being neutral parties that do not get involved in local politics.  They have only one sacred creed – The Warrant Is All.  But things change radically for Dutch and John when a new warrant is issued, a level 5 dead not alive bounty on John's brother D'Avin (Luke MacFarlane).
Killjoys greatly resembles Firefly, featuring humans spread across the galaxy on a myriad of different worlds, but no aliens.  A space ship named Lucy, whose A.I. has a dry sense of humor, and a crew of merry rogues zip all over the place, having fun and often getting into trouble.  The Quad is monopolized by a nefarious, shadowy and corrupt entity known as The Company, but the real source of power is the planet Qresh.  Home to Nine old, inbred and exceedingly rich families, who dealt with the problem of overpopulation by sending the middle classes to rural moon Leith and dumping all of society's leftovers on poorly terra-formed moon Westerley, leaving Qresh to become the haven of the elite, an obscenely opulent planet devoted to scheming politics and pleasure.  It's a perfect set-up for a wild, rip-roaring and outrageously fun story with intriguing sub-plots and well thought out back stories.
Dutch is a fabulous character, the leader of her Killjoy team who can switch in the blink of an eye from a highborn lady to a leather-clad fighting machine, always poised and in control until it comes to her messy emotional past. Raised in a royal harem and trained to be a lethal assassin, Dutch is on the run from forces that have a different agenda for her life.  John and D'Avin have their own history and there are a host of other great characters spread across the Quad.  Alvis the Penitent (Morgan Kelly) is a monk from an interesting religious sect whose practitioners seek faith and salvation through physical pain and suffering.  Sarah Power plays Illenor Pawter Simms, a disgraced Company doctor banished by her Qreshi family to live on Westerley, a moon home to beggars, sinners, pirates and other disreputable elements.  Scariest of all is enigmatic Khlyen (Rob Stewart), the man responsible for Dutch's unorthodox upbringing, from whom she thought she had long since escaped.
Killjoys is a sleek and sexy show, full of grit and glam.  Each episode is an exhilarating thrill ride, rich with fine-tuned characters and incredibly detailed backdrops.  It's a rollicking adventure cleverly seeded with deeper narratives, beautifully balancing lively humor with compelling drama.  I was a huge fan of the first season, devouring each new episode with tremendous enjoyment and was ecstatic when it was announced on September 1, 2015 that Killjoys had been renewed for a second season.  So go ahead and indulge yourself in a fabulous show, safe in the knowledge it will not suffer the same fate as Firefly.  The Warrant Is All!  – BETHANY
For more on the awesomeness that is Killjoys, swing by the Internet Movie Database
For even more in depth detail, visit the Killjoys Wiki site.
Left to right:  D'Avin Jaqobis (Luke Macfarlane), Dutch (Hannah John-Kamen) and John Jaqobis (Aaron Ashmore).
The Killjoys chasing a warrant in Westerley's Badlands.  Look at all the fun toys!
                                          Dutch effortlessly blends in, no matter her surroundings.  Fantastic dress, but it's the necklace that's deadly.
A view of The Quad.
D'Avin looking decidedly out of place at a high society gala.  The costume design for this show is beyond exquisite.
Lucy, voiced by Tamsen McDonough.  Shiny!
Young girls from Leith earn money for their families by being surrogates for highborn Qreshi women who do not wish to sully their bodies by going through pregnancy.
     Wild child Pawter Simms (Sarah Power) runs afoul of The Company.  Again.
Tough as nails Bellus Haardy (Nora McLellan), a Killjoy warrant broker in her establishment on Leith.
  John and Alvis (Morgan Kelly), a Scarback monk who occasionally works with the Killjoys.
                                              Dutch is equally at home in low places as she is with the upper crust and is a force to be reckoned with in both.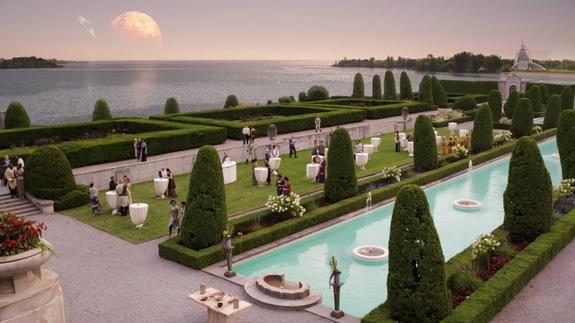 The beautifully rendered set of a party at a wealthy estate.
John sweet talking jaded bartender Pree (Thom Allison) at his dive in Westerley's Old Town, where anything can be had for a price.
Dutch flawlessly morphs into a Qreshi aristocrat while searching for a man gone missing on Leith.
Amanda Tapping (Stargate SG-1 and Sanctuary) guest stars as a military doctor from D'Avin's past.
Dutch faces Khlyen (Rob Stewart), the mentor/tormentor from her childhood.
Photos courtesy of Temple Street Productions, Bell Media, Universal Cable Productions and Syfy (unless otherwise credited in clickable form)