This hilarious show makes no claim to be serious drama. It's a soap in the best sense, which splits its time between the very rich of Beverly Hills and the tight knit community of Latina maids who work for them. It is not meant to be believable, it's more like an American version of a telenovela, where everything is over the top and the plot twists and turns more than Bill Clinton trying to explain his relationship with Monica Lewinsky. It is deliciously sordid and frequently laugh out loud funny, with an amazing cast of superb actors.
Relationships are the driving force of the show, where everyone is connected to everyone else and are all up in one another's business. The squadron of maids and their complicated friendships with their employers are a guilty pleasure to watch, and each character is drawn in bold, broad strokes of caricature, some more realistic than others. True, the very rich do tend to be self-centered and clueless, but absolutely everyone is looking out for number one and in that sense, it isn't just the maids that are devious. The dialogue is sharp and a bit sarcastic, almost as though it is making fun of itself, which is always entertaining. I look forward to each new episode and am delighted that season 2 is every bit as good, if not better, than season 1 and the same is true for subsequent seasons. This is an unapologetic Latina potboiler and I for one am totally hooked. – BETHANY
For more on this terrifically addictive soap fest, visit the Internet Movie Database
Meet the maids, from left to right:
Flora Hernandez (Paula Garcés), whose murder that started it all with her epic swan dive into the Powell's swimming pool during a swanky party.  The question of the season – who killed Flora?
Evelyn and Adrian Powell (Rebecca Wisocky and Tom Irwin), a brilliantly cast twisted pair whose complicated relationship and cavalier attitude towards life and other people is a scream to watch.
Yeah, it's a rough life being a maid.
Zoila and her boss/friend Genevieve Delatour (Susan Lucci).
                                            Remi Delatour (Drew Van Acker), Genevieve's son.  He presents a problem for Zoila, who knows her daughter Valentina is in love with him but Zoila's convinced nothing good could come of such a relationship.
Peri and Spence Westmore (Mariana Klaveno and Grant Show), who are both actors, have a troubled marriage.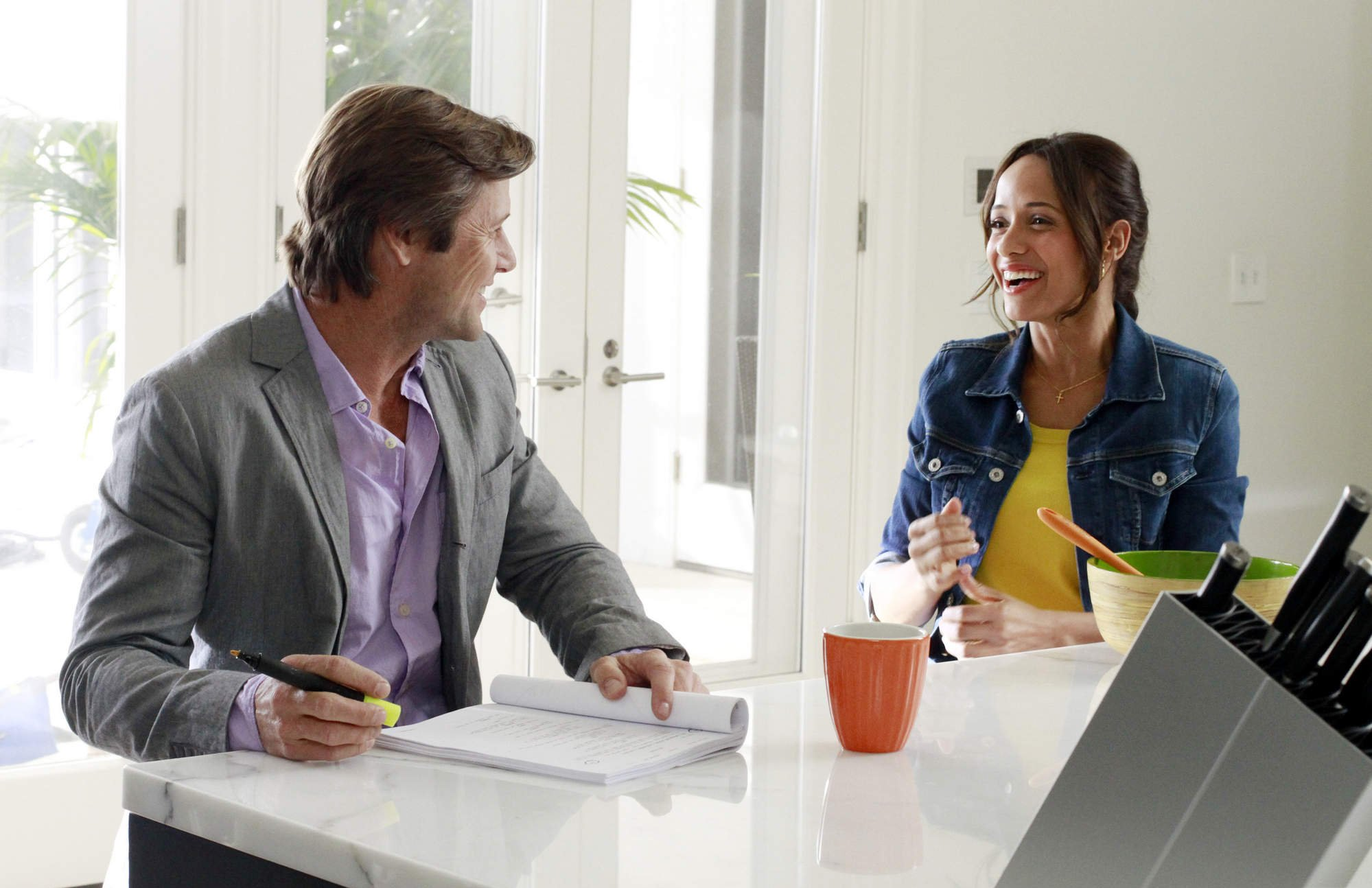 Spence has a much more comfortable relationship with their maid, Rosie, who calls him Mr. Spence.
Michael and Taylor Stappord (Brett Cullen and Brianna Brown), whose life has every appearance of being a fairy tale.
                                Carmen works for Latin pop star and heartthrob Alejandro Rubio (Matt Cedeño).
But her plans to seduce/use him to launch her own career are hampered by Alejandro's longtime and very prickly employee Odessa Burakov (Melinda Page Hamilton).
Fun on the set with Drew Van Acker and Edy Gamen.
Photos courtesy of ABC Studios, Cherry/Wind Productions, Televisa USA and Disney–ABC Domestic Television (unless otherwise credited in clickable form)