The CW seems to have cornered the market in supernatural dramas populated by the young and beautiful. Not that it's necessarily a bad thing, just an observation. I started watching The Tomorrow People because I love Arrow so much, and figured another Amell cousin might be worth a try. After watching the show's freshman season, I think it would definitely be worth tuning in for the next season, if there is one. The premise is familiar enough, with the next step in human evolution manifesting as the psionic powers of teleportation, telekinesis and telepathy, and the new species being persecuted by normals as well as some misguided members of their own kind.
The main character, Stephen, serves as the audience's gateway guide to the world of the Tomorrow People as he suddenly starts manifesting superpowers and begins to meet the major players in the "shadow war". Is the concept thoroughly original and each episode utterly compelling? No, but it is entertaining and interesting enough to keep me watching. This isn't meant to be groundbreaking television drama. It's a young adult soap, but in the best sense of the phrase. My favorite character is Russell, a paranormal who gets all the good lines and is always the life of the party. Full of suspense, underground lairs, shadowy government installations, the inevitable romantic entanglements and family drama, I hope the show gets a chance to expand the story line with a second season. It is currently listed as cancelled, but shows have been known to be resurrected if the fans howl loudly enough. – BETHANY
For more on this wasted opportunity by the CW, visit the Internet Movie Database
Stephen Jameson (Robbie Amell), flanked by his uncle Jedekiah Price (Mark Pellegrino, whom you might remember as Jacob from Lost) and his father Roger Price (Jeffrey Pierce), both pulling him in diametrically opposing directions, each with their own agendas.
Jedikiah broods a lot, ostensibly running the ridiculously named covert organization called Ultra.
Stephen's best friend Astrid Finch (Madeleine Mantock) knows there is something hinky going on.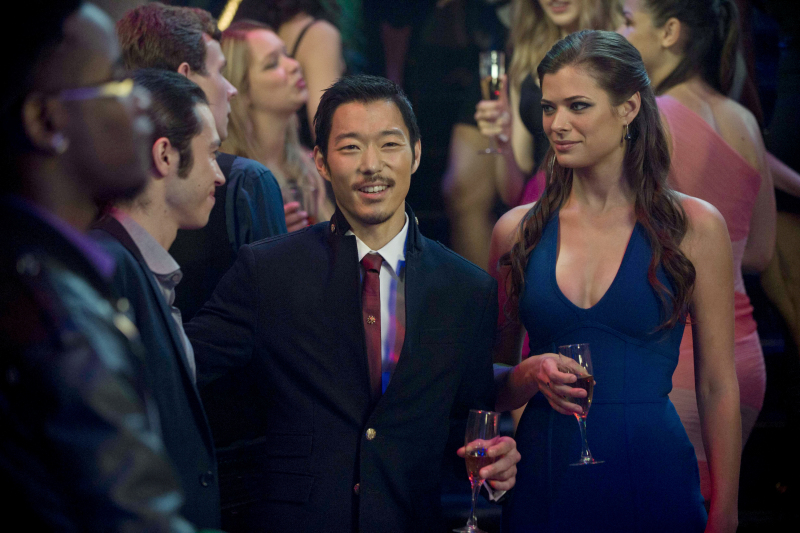 Tomorrow People Russell and Cara (Aaron Yoo and Peyton List) no doubt crashing a party to which they were not invited.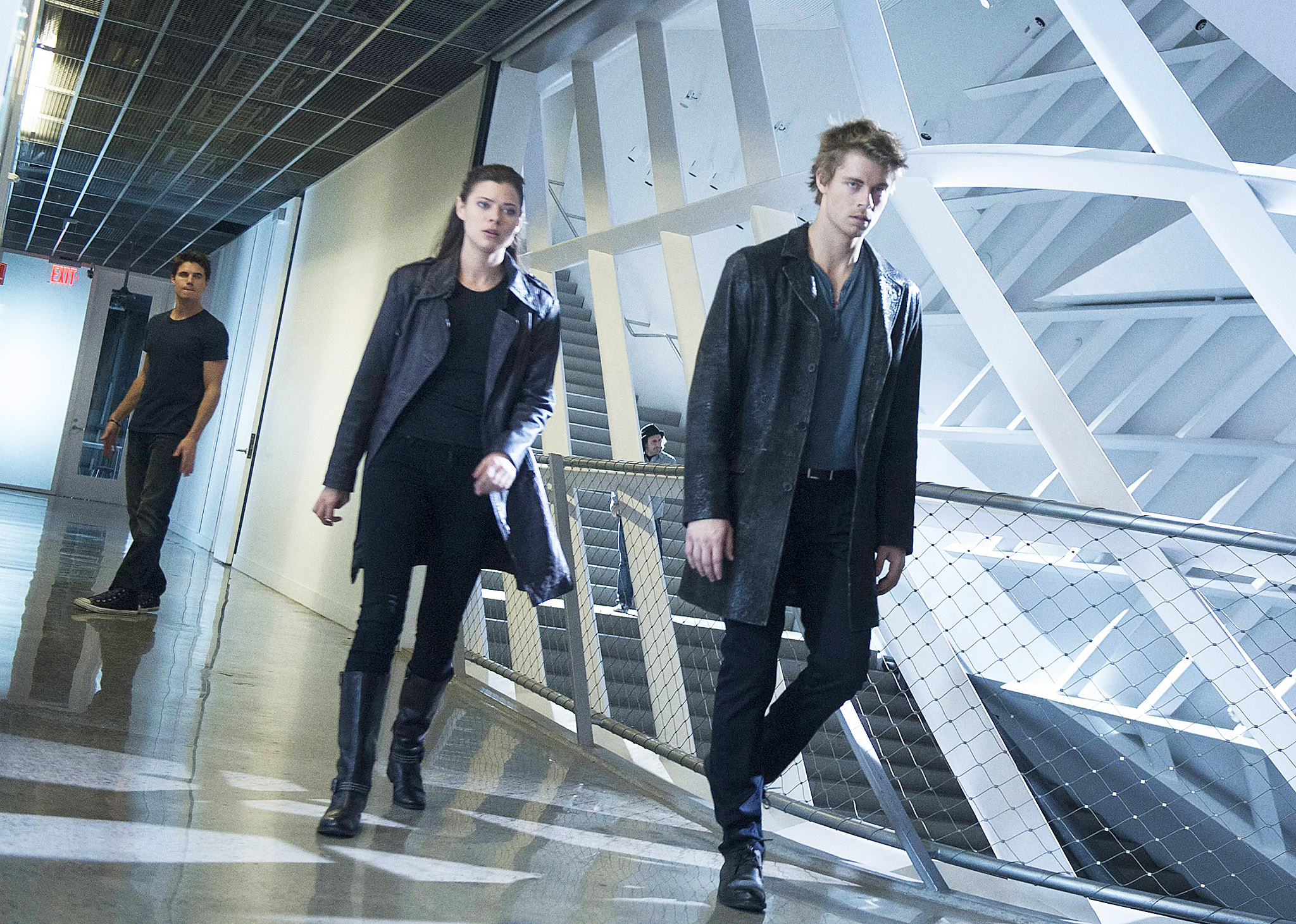 In order to be cool desperados, it is necessary to wear black boots and black leather jackets.  Anything else would be just banal.  Stephen, Cara and John (Aussie actor Luke Mitchell).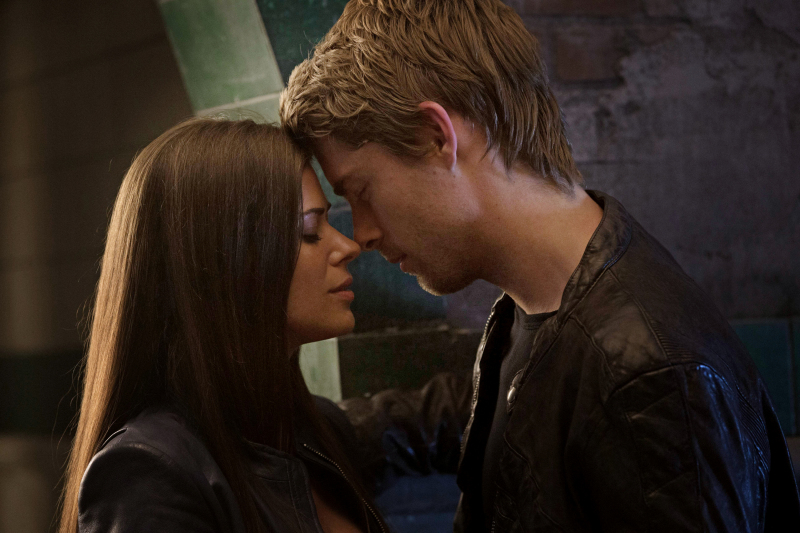 Cara and John are a very cute power couple.
   The iniquitous power behind Ultra, a stygian character known only as The Founder (Simon Merrells).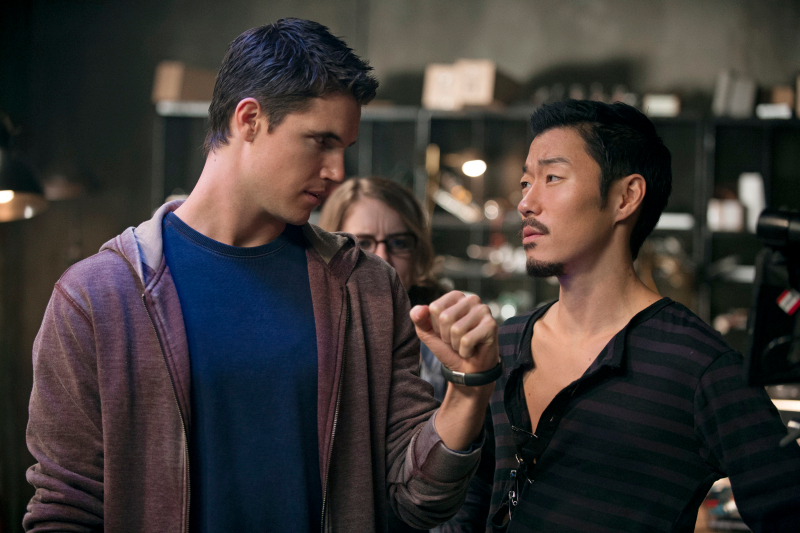 Stephen and Russell in the Tomorrow People's Lair, a tricked out abandoned subway station.
Photos courtesy of Berlanti Productions, CBS Television Studios, Fremantle Media North America, Warner Bros. Television and The CW (unless otherwise credited in clickable form)